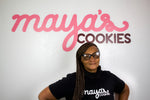 The Maya's Cookies team is happy to introduce our newest addition to the team: Meet Veronica, our Assistant Production Manager. Maya and Veronica work side by side in the bakery mixing and scooping hundreds of cookies everyday to get everyone the Maya's Cookies they love.
Not only is Veronica driven and willing to be up and ready to bake at the kitchen before 5am, but she always shows up with a smile on her face— a smile that brightens every room she walks into.
When asked about why she loves to cook, Veronica says she has found a love for cooking since it is something that makes people happy— fresh and delicious meals make people feel welcomed and most importantly, in Veronica's words, cooking is an "easy way to make people smile."
Of all the meals she has learned to cook over the years, she is best known for her classic Sweet Potato Pie and decadent Mac and Cheese. The Sweet Potato Pie recipe belongs to her grandpa and is their family's signature dessert that's cherished by her entire family. They say Veronica's Sweet Potato Pie is the only person's pie that comes close to the flavor of their grandpa's.
When Veronica isn't enjoying cooking and baking, she likes to enjoy the attractions and scenery of San Diego where she was born and raised. Once the sun sets in San Diego, she likes to cuddle up and watch romance movies (she's an especially big fan of the 1982 romantic drama, Officer and a Gentleman).
Maya's Cookies was connected with Veronica through Kitchens For Good, an organization focused on equipping individuals with culinary and hospitality training so they can launch meaningful careers to move forward in life and aide their community. Veronica joined Kitchens For Good when she was at a crossroads in her life and was looking for something long-standing and meaningful. Kitchens For Good taught her how to align her already strong cooking skills with the culinary world's needs. Veronica described the Kitchen For Good mentors as helpful and constantly supportive. We're so thankful Kitchens For Good brought us Veronica!
Maya and Veronica were interviewed and featured in the San Diego Union Tribune. Read the full article here.