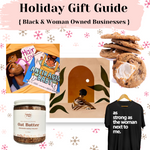 It's that time of the year… The season of holiday cheer, silver and gold decorations, and of course, delectable treats! As a team we've put together five Black-Women Owned businesses we love that make the best products for holiday gifts! Bonus: Each of these small businesses offers products that are $35 or less (including shipping!)
Maya's Cookies: mayascookies.com
Of course, we had to include ourselves in this list! Our Deluxe Holiday Tin is the perfect gift for those people in your life who already have everything but could use a tin full of vegan cookies baked fresh and shipped nationwide.
This tin has some of our most inventive flavors yet, including Chocolate Peppermint S'mores and White Chocolate Cranberry while staying dedicated to classic holiday flavors such as Sparkle Sugar and hand-decorated Gingerbread!
These gourmet cookies are sure to make the foodie father, the dairy-free best friend, and the co-worker who lives for Instagramable eats jolly with a belly full of delicious bites! Did we mention we have gluten-free options too?
MESS in a Bottle: messinabottle.com
 
Derived from on the age-old concept of a "message in a bottle," this innovative clothing company has put a new spin on how we communicate, using bold print on otherwise blank apparel to help convey a message.
Now that we no longer need to rely on carrier pigeons or messages in a bottle to communicate with one another, MESS in a Bottle allows us to wear and deliver the MESSage ourselves. The clothing is printed with catchy phrases that range from the catchy quip, "Torn btwn eating a snack and being a snack" to contemporary commentary, "this expensive t-shirt was made by a black designer, not goochie."
There's a mask, t-shirt, or pullover sweater for everyone on your holiday gift list!
Oat Butter Brand: oatbutterbrand.com
 
Put aside regular peanut and say hello to Oat Butter! Available in two flavors, Cinnamon Maple Walnut and Cacao Almond, these butters are melt in your mouth delicious— with raw and vegan ingredients that are sure to satisfy any sweet tooth (and tummy!)
We've fallen in love with incorporating Oat Butter into our brunches. Waffles with a warm Cinnamon Maple spread and crushed pecans sprinkled on top? Count us in! You can also drizzle Oat Butter onto ice cream if gourmet is your game!
Jubilee Books: jubileebooks.shop/

When in holiday gift doubt, support a Black-owned bookshop! Every friend and family member can benefit from being gifted a book from Jubilee Books. These books are hand selected by the shop's owner and center around celebrating voices from all walks of life, especially the ones that go unheard.
Jubilee Books are separated into categories including Children's, Young Adult, and then Non-Fiction and Fiction. Each book is coupled by a detailed summary that allow's enough insight into the book's journey but without being overly revealing.
From classic literature to recent best-sellers, this carefully curated selection of books creates space for historically disenfranchised voices to shine.
Bria Nicole Art: briapaints.com
 
With a focus on modern lifestyle imagery, Bria Nicole creates beautiful prints (available framed or unframed) that capture the intimacy of the current moment, the moments we often take for granted. Whether it's a woman shielding her face from the sun or adding a pair of bold earrings as an outfit's finishing touch, Nicole's artwork provides glimpses of beauty in the everyday.
Along with portraits, there are illustrations of landscapes and plants that offer a sense of nostalgia in the layered minimal shapes and lines which create a simple yet realistic composition. These prints have muted colors that can match any room— the perfect gift that is sure to provide a sense of comfort to your loved ones!