Ready to share the love? Join the Cookie Love Club today! 
Each month the Cookie Love Club Box will contain: 
6 Cookies Total: 
• 2 - 3 oz. cookies will be a hand-picked mix of our favorite seasonal flavors
• 4 - 3 oz. cookies will be exclusive flavors!
Order this subscription box as a monthly treat for yourself or send a subscription to family or friends to share the love.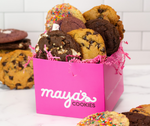 October Flavors
1. Pumpkin Spice Chocolate Chip
2. Pumpkin Spice Snickerdoodle
3. Halloween Sprinkle
4. Boo Thang
5. Butterscotch
6. Caramel Pecan
To receive October selections, orders will begin on September 15th and close on October 12th. All October orders will ship the week of October 16th
Please Note: The minimum subscription length is 3 months**. Discounts cannot be applied to the subscription service. Subscription orders cannot be customized.