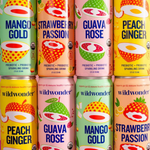 Is one of your New Year's Resolutions to support more ethical brands? Do you want to ensure you are using your buying power for good, but don't know where to start?
Here is a list of some of our favorite ethical brands to support that care about the planet and others.
When it comes to gut health and a fun beverage, Wildwonder has you covered! Wildwonder is a probiotic-packed sparkling drink that uses clean ingredients and unique flavor combos to keep you refreshed and energized throughout your day. Not only is Wildwonder an easy and delicious way to help with your gut health, but they also donate 5 % of their profits to empowering women and helping marginalized communities.
Looking to include more non-dairy options in your diet this year, but can't seem to give up cheese? Double Batch Creamery is a San Diego based vegan cheese company that offers a wide variety of cheese alternatives that you can use to cheese up your recipes this year! Lessen your carbon footprint in the new year and try out some of Double Batch Creamery's best sellers like Mozzarella and Classic Ricotta.
Trying to find a snack that is delicious, healthy, and gives back to the community? Outstanding Foods offers a large range of yummy snacks that are free from gluten, soy, GMOs, cholesterol, and trans fat. They have also donated their product and money to help people and families in need! Some of our favorites include the White Chedda Puffs and the Texas BBQ Pig Out Crunchies.
Koia is the perfect, dairy-free protein shake alternative for those getting back into their fitness routines! We do not know how Koia does it! They offer a wide variety of amazing flavors that are low sugar, dairy-free, kosher, GMO-free, and gluten-free. Part of Koia's mission is to change "the way people see plants and how they drink plants too." Save the planet while getting your protein in by visiting drinkkoia.com!
So many beauty products in the industry are harmful to animals, so make it a point this year to be conscious of the products you are buying! Or let someone else do it for you! Kinder Beauty Box is a subscription box where you can get a box of cruelty-free, vegan, clean beauty products shipped right to your door each month! "Each year, the Kinder team selects a small group of charity partners to receive monthly donations." Check them out at kinderbeauty.com!
Nothing like a good workout set to get your fitness journey started this year! Girlfriend Collective is an activewear brand that is made ethically from recycled materials. They also understand the importance of inclusivity, incorporating a size range of XXS - 6XL and include diverse models in all of their campaigns. Be kind to the planet while looking cute with Girlfriend Collective!