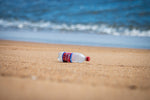 We are incredibly excited to launch our very first Maya's Cookies Beach Clean Up! Details are below, followed by printable coloring page designs by Caiti Rose, the creator of Sharktopia. Check out more of her stunning work at www.sharktopia.org.
This beach clean up will happen at Mission Beach near Belmont Park on September 20th at 8am. We will provide trash bags, single use gloves, and importantly… free cookies for participants! We recommend you bring your own water bottle, sunscreen, and reusable gloves if possible (gardening gloves work!) PLEASE WEAR A MASK AND MAINTAIN SOCIAL DISTANCING! We will have our pink Maya's Cookies tent out so you'll be able to spot us from the boardwalk.
This beach clean up is just one of the many ways we are trying to amplify our dedication to sustainability in our community and in our world. As a business, these are a few of the steps we've taken to become more sustainable & community oriented:
We are a vegan business which means that we use no animal products in our cookies. This allows us to minimize the amount of pollution that goes into the cultivation, management, and transportation of our ingredients.

The majority of our packaging is recyclable and reusable and/or made with recycled materials. We are currently testing compostable slips to package our cookies in.

We aim to use our own success to uplift the small businesses around us and improve our community as a whole. We continue to source as many organic and local ingredients as possible. We actively seek collaborative efforts with other companies and individuals who have values that align with our own.

Maya has been a repeat keynote speaker at various lectures and workshops in the African-American community that highlight the various benefits of eating whole plant-based foods. Additionally, Maya uses her business (Maya's Cookies) as a way to support underserved youth (specifically those in foster care) by offering internship and mentorship opportunities.
Click here to download the image.
Here are a few simple steps you can take to become more sustainable alongside us:
Do you buy our cookies at the San Diego Farmers Markets? Bring your own totes to carry around your Farmers Market buys! (Reusable bags for grocery shopping is great too!)

Continue to support small businesses that have values that align with your own. Your dollar is your vote!

Be sure to follow your city's trash and recycling protocol. Be aware of what you can and can't recycle— just because something is plastic doesn't mean it can be recycled.

Try your best to minimize your consumption of animal products— vegan food is delicious (like these cookies!)

Thank you to everyone who takes steps daily to make the Earth a better place for ourselves, future generations, and the animals we share it with. We are stronger together! So next time you purchase a cookie, remind yourself that, if Maya's Cookies succeeds, we all succeed, as we work together for a healthier and happier planet.
Click here to download the image.