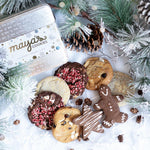 During the holidays, it used to be tough for vegans to steer clear from products that were tested on animals or that contained icky animal by-products. Thankfully, today, there's more sustainable, cruelty-free gift options on the market than ever before! Keep scrolling for amazing gift ideas that will show your love for the animals, for the planet, and for your loved ones this holiday season.
Vegan gifts for the foodie
Delicious, edible gifts for the vegan food lover on your list!
Maya's soft and chewy gourmet cookies come in a variety of seasonal flavors. They ship nationwide in cute gift tins!
See the full list here