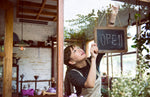 If you're like us, you wish holiday shopping could be more thoughtful, and less frantic! To make finding covetable gifts easy, take some stress out of the equation, and support some awesome locals, the Restore SD Plastic Surgery team is shopping at woman-run businesses in San Diego this year. Below, we've rounded up 11 of our favorites to help you get a head start on this holiday season.
1. Native Poppy
No matter how big or small a bouquet you want to give, you will find that every Native Poppy flower arrangement is truly a work of art. You can also surprise a friend with a vase or paper-wrapped bundle of wild flowers delivered when they need it most, or shop their lovely array of aesthetically-pleasing gift ideas. And if you're shopping for a memorable gift, consider a flower subscription! 
2. Maya's Cookies
Sure, a cookie is something you eat, but it's also an art form. We know this because of Maya's Cookies, where the confections are both gourmet and vegan. With their subscription service, classic holiday collections, and perfection in every bite, they've got you covered for everything from shopping for someone who's hard to buy for to hostess gifts.
3. Often Wander
Specializing in locally-made beaded bracelets, natural perfumes, candles, crystals, and other seriously giftable treasures, Often Wander is your go-to for special stocking stuffers and presents for the wild child or spiritual sage on your list. (Plus, they offer half-price candle refills!)
4. Bitchin' Sauce
After getting their start in San Diego farmer's markets, the almond-based, gluten-free, and vegan sauces made by Bitchin' Sauce are now a holiday staple! Pick up a tub (sold all over the country) and gather some free hosting inspiration from the robust list of recipes published on their website.
5. Rais Case
If it's bags, purses, or wallets you're on the hunt for, Rais Case is your one stop shop. Their gorgeous, timeless leather bags are designed in San Diego and made here, too. Each bag has the quality of an investment piece and the loveable feel of an everyday staple.
6. Shop Good
Run by a holistic health coach, Shop Good not only offers spa facials, but also carries a downright incredible selection of clean makeup and skincare, all free of toxins. Shop here, and you don't have to think twice about what you're putting in or on your body—or giving to a loved one for a gift!
7. Jenny Wenny Cakes
The confections baked and designed at Jenny Wenny Cakes are unforgettably beautiful, decorated by true artists. They specialize in delivering the cake you need for your event, tailored to your vision. You may think it's hard to beat the beauty of these cakes, but when you cut into it, prepare for layer upon layer of not just cake and frosting—there's to-die-for filling in there, too!
8. Kiko and Sven
Looking for a reliable spot to find unique, stylish gifts? Kiko and Sven carries an ever-rotating selection of rare finds, all packed with style. They're your go-to for gorgeous houseplants and unique planters, hand-poured candles (made in house), gorgeous jewelry, clothes, and special gifts for mama and baby, too.
9. Katie's Healing Kitchen
With a focus on how plant-based food can heal our bodies, Katie's Healing Kitchen offers an array of online and in-person cooking classes to provide the tools to help you (or someone you're shopping for) actually learn how to eat clean. Buy the class with a friend or loved one to transform the gift into a shared experience.
10. California Sock Company
Are there kids—or kids at heart—on your list? For themed socks and fun onesies, California Sock Company offers a selection that's curated to be bright and fresh. You can also give a sock subscription as a gift to help them keep their foot wardrobe exciting. And for every pair of socks you buy, they give a pair to a child experiencing homelessness.
11. The Gluten Free Baking Company 
San Diego-based bakery The Gluten Free Baking Company offers an impressive and delicious range of celiac-safe baked goods, from bagels to cookie cakes. Pre-order your holiday staples online 48 hours in advance, or stop by their bakery to see what's fresh as you go about your holiday shopping! Their treats are the perfect anytime pick-me-up for someone avoiding gluten.
Read the full list here