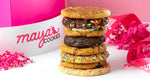 Vegan cookie brand Maya's Cookies gets its own holiday.
Everyone's favorite Southern California vegan cookie brand is making history! San Diego-based Maya's Cookies is getting their own holiday, as San Diego County is officially declaring December 4 Maya's Cookies Day.
National Cookie Day December 4
While the rest of the country will be celebrating National Cookie Day on December 4, San Diego County has officially renamed the holiday as Maya's Cookies Day to celebrate the positive impact owner Maya Madsen has had on the local community, as well as her dedication to helping other small businesses succeed in unprecedented times.
Mayor Todd Gloria will be presenting Madsen with a proclamation at 10am on Saturday, December 4 at the Maya's Cookies storefront located in Grantville at 4760 Mission Gorge Place, Suite G, San Diego, CA 92120.
The community is invited to join in on the celebration, and the first 20 customers will receive a free gingerbread cookie with any purchase. Other surprises lay in store for the day dedicated to celebrating the successes local small businesses have achieved over the past number of years.
Maya's Cookies: A San Diego Vegan Favorite
Maya's Cookies has been a part of the San Diego community since 2015, appearing as a favorite pop-up at local events and farmers markets, as well as developing a successful online store.
After years of blossoming success, Maya's Cookies opened their first storefront in Grantville in November of 2020, where customers can enjoy dozens of daily cookie flavors, such as Chocolate Chip, Snickerdoodle, and seasonal favorites like Choco Peppermint S'mores and Candy Cane Land. Of course, everything on the menu is vegan!
The online shop is still up and running for those who don't live in the area, and nationwide shipping is available for cookie box subscriptions, your favorite flavor by the half dozen, and holiday gift sets. Visit MayasCookies.com to browse the full menu and place your online orders!
Read the original article here