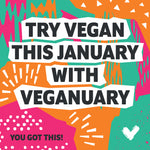 Getting Started: Veganuary
Many vegans will tell you that being vegan isn't difficult. Of course, going vegan requires change and a little extra effort here and there but thankfully being vegan doesn't mean that you have to give up your favorite foods (I mean, look at our cookies, they're 100% vegan!)
Since the vegan lifestyle does require dedication and planning, we're here to embark on this Veganuary journey with you. That's why each and every day this month, we will be launching amazing giveaways, sharing Maya's favorite vegan recipes, and compiling tips and tricks to help YOU go vegan this January. Connect with us on Instagram, Facebook, and Twitter to join us this Veganuary!
Here's some advice to get you started this month: plan, have patience, and find community. Read more below!
Plan:
I know we've all heard about the importance of planning before, and when it comes to changing your eating habits, planning is especially vital in guaranteeing a successful Veganuary! Planning begins with your grocery list. To make sure the vegan meals you make are nutritious and delicious, it's important to plan your meals ahead of time and make a grocery list that has all you need. You may be grocery shopping more during this month to ensure your produce is its freshest at all times but there are also plenty of frozen vegan goodies (that aren't just frozen veggies) that we love and are perfect for those nights when you just can't be bothered to cook.
Each vegan dish you make may not be the new go-to meal you bring to every dinner party but don't let that discourage you to go out of your comfort zone and try new things! It may be a bit daunting going to the grocery store to buy nutritional yeast (say what??) and switching out your favorite classic butter for coconut oil, but these new flavors and experiences are part of the fun of Veganuary! You'll get to see what you like and dislike, all while expanding your experiences within the world of cooking. It's possible that your appreciation for that one vegan friend from college is likely to grow too (is it weird to email them after several years to ask for that chocolate cake recipe?)
The Vegan Society and Veganuary are two great resources to check out before beginning your Veganuary journey. With key information and answers to common FAQ's about a vegan lifestyle, these sites are a great first step towards your month of animal-product free living.
Have Patience:
Most importantly, being vegan is about peace and love. Veganism helps reduce our carbon footprint while also sparing the lives of hundreds of animals. This compassion for our fellow living beings includes being kind to yourself! With time and patience, most people find that it's not hard to be vegan. But this doesn't mean the transition is without a few bumps. Everyone experiences transitions in life differently and transitioning to a vegan diet doesn't have to be perfect. What matters is that you try!
Sometimes the biggest changes we make in our lives (and in the world) are the little shifts we make here and there that eventually grow into full transitions. One of the easiest ways to transition to a vegan diet is by eliminating one animal product at a time. You can begin with cutting out meat, then eggs, milk, cheese, and finally eliminating products that are made with animal products such as beauty materials, leather, and/or cleaning tools. There are so many substitutions out there for these animal products and every Wednesday we will be introducing our favorite vegan swaps such as flaxseed in place of eggs and blended cashews instead of cream. Stay tuned!
Find Community:
Remember: being vegan doesn't mean you need to miss out. Choosing to eat plant-based dishes actually opens the doors to a whole new world! (Cue the Aladdin soundtrack). But we're not kidding! The vegan community is incredibly supportive and will graciously invite you into the magical world of vegan lollipops and gumdrops (no gelatin included!)
One great way to immerse yourself in the vegan community is by following vegan creators and companies on Instagram, Twitter, and/or TikTok (really whatever social media platform is your go-to). Even if you're not on social media, there's plenty of resources and community pages online, including blogs!
Our Maya's Cookies feed is full of diverse recipe ideas, innovative vegan products, and lots (and I mean lots) of amazing vegan restaurants. What is especially incredible about the vegan community is that no matter where you are, you have access to tons of great vegan brands. You don't have to live in the big cities to go vegan— sure Los Angeles and New York have access to more vegan restaurants, but there are so many vegan brands that ship nationwide. No matter where you are, you can enjoy your favorite foods, the vegan way.
Be sure to keep an eye out for all the giveaways we're doing this month! These giveaways give you a chance to win superfood snacks, ice cream, beauty products and more— all vegan! These giveaways are the chance to experience some of the best vegan goodies out there.
Do not hesitate to drop a comment on any of our posts this month with your questions or your recommendations. We want to see how you veganize your world! Best of luck and remember to treat yourself (we will be indulging on our classic Chocolate Chip S'mores!)