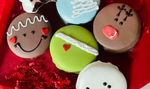 From Santa doughnuts to decorated cookie assortments, make the holidays sweeter with an edible Christmas gift. 
DECEMBER 2, 2022
Flowers are nice, but nothing shows you care like a box of ornately wrapped chocolates or delectable Christmas cookies. Edible gifts fall firmly within the gratuitous category of gifting—few would spend the shipping costs alone to order themselves a package of vegan sweets, but this is exactly why professionally made vegan treats make for the perfect gift. They're indulgent yet practical. 
Edible gifts aren't like an expensive piece of jewelry that may be returned—we can guarantee someone who receives a box of artisan vegan Swiss chocolate will devour it before the New Years' resolutions set in. Not to mention, gifting treats is an excellent way to support independent vegan businesses while simultaneously indulging your cookie cravings. 
Vegan Christmas treats that ship
From holiday cookie tins to festive chocolate assortments, these 14 Christmas sweets will make you merrier with each bite.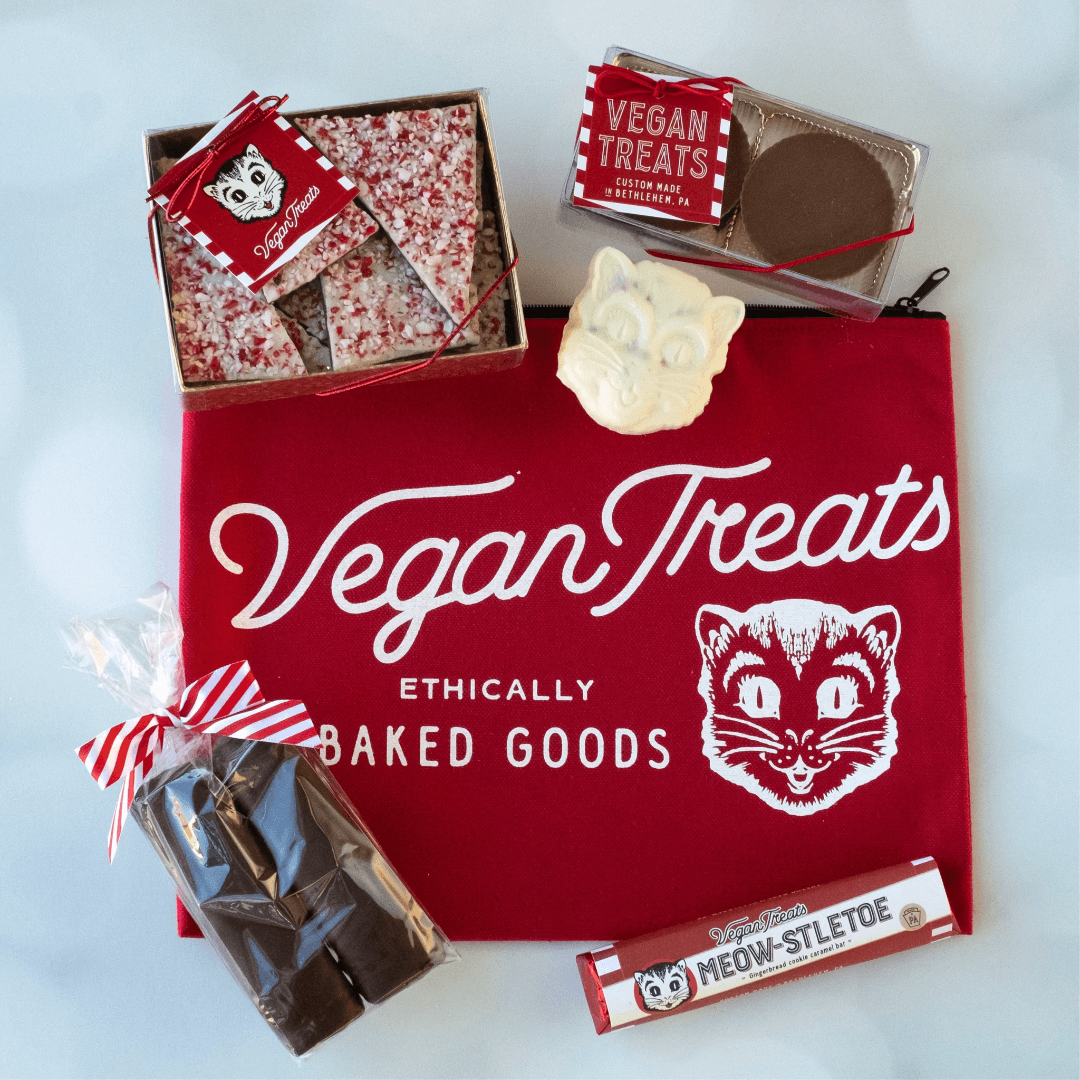 Vegan Treats
1. Vegan Treats
This iconic vegan bakery has outdone itself this year. In addition to the holiday cookie tins, chocolate and peppermint confection collections, and chocolate samplers, Vegan Treats is now shipping fresh cannolis nationwide. The tin includes one dozen cream-filled, chocolate chip-dipped cannolis either in classic, chocolate-covered, or gluten-free varieties. 
FIND OUT MORE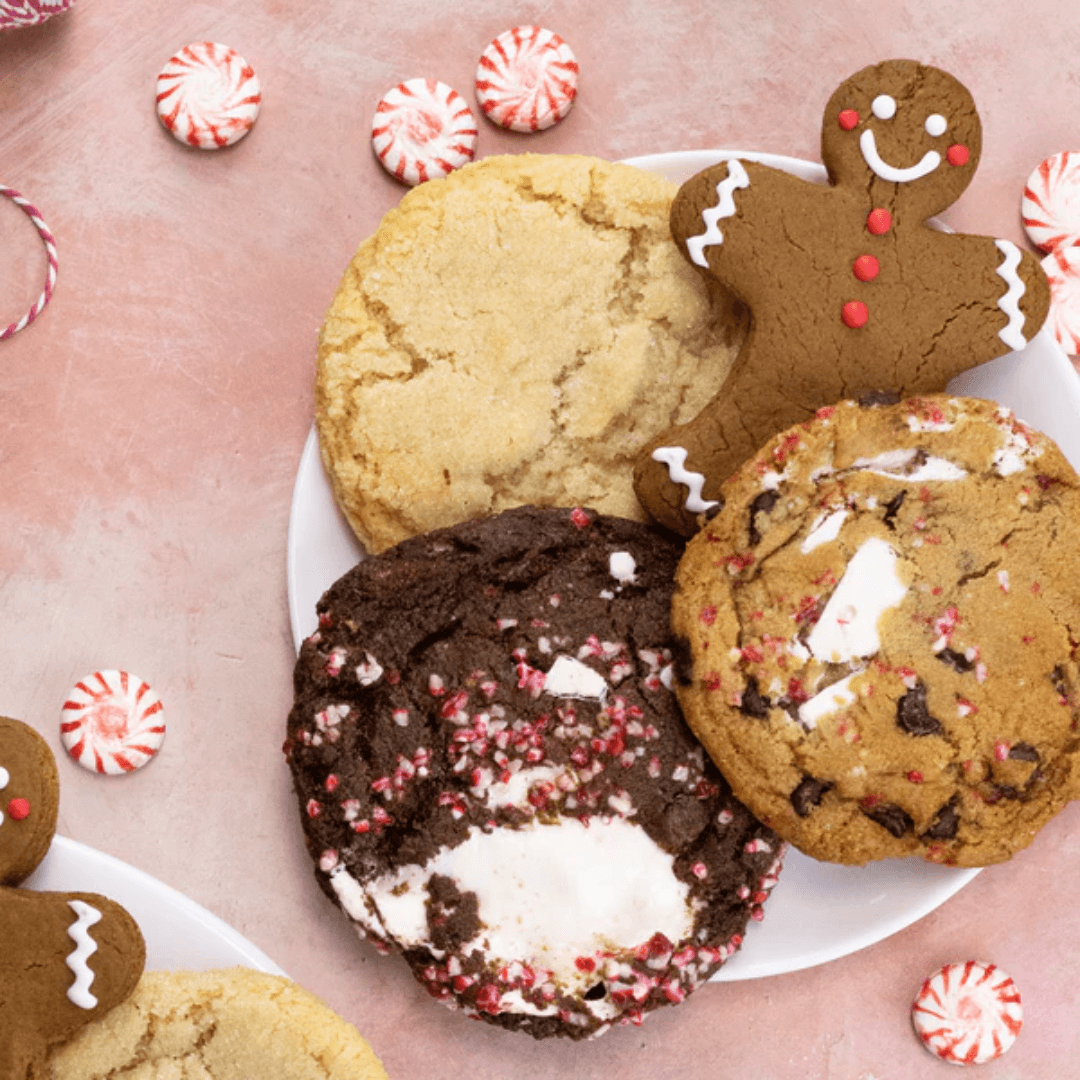 Maya's Cookies
2. Maya's Cookies 
Pre-2020, this Black- and woman-owned cookie bakery survived off online orders and local pop-ups. While owner Maya Madsen transformed her business into a brick-and-mortar in San Diego, she's kept the nationwide shipping alive. Amongst the Classic Collection and year-round flavors like Classic Chocolate Chip, S'mores, and Snickerdoodle, cookie enthusiasts can purchase seasonal boxes such as the Candy Cane Land assortment and the Holiday Spice Gift Set. The latter includes four iced gingerbread folk and a Frères Branchiaux gingerbread-scented candle. 
FIND OUT MORE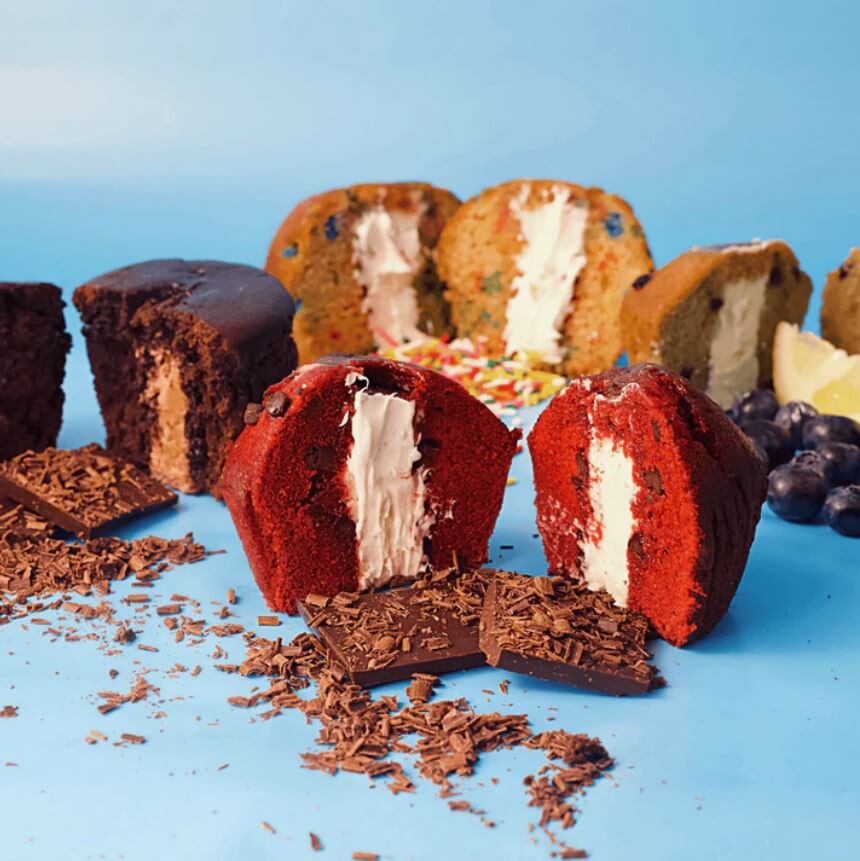 Southern Roots Vegan Bakery
3. Southern Roots Vegan Bakery
Actress and personality Tabitha Brown is a fan of this San Antonio bakery, and we trust her judgment. Southern Roots can ship a vast majority of its most popular sweets nationwide, from cake doughnuts to their famous Mary Lee's Lemon Cake. For those who enjoy variety, there's the Baker's Choice Mystery Box. The subscription-based gift includes a dozen assortment of cake doughnuts and cookies, both in a yet-to-debut flavor. Given the quality of these baked goods, you can't go wrong. 
FIND OUT MORE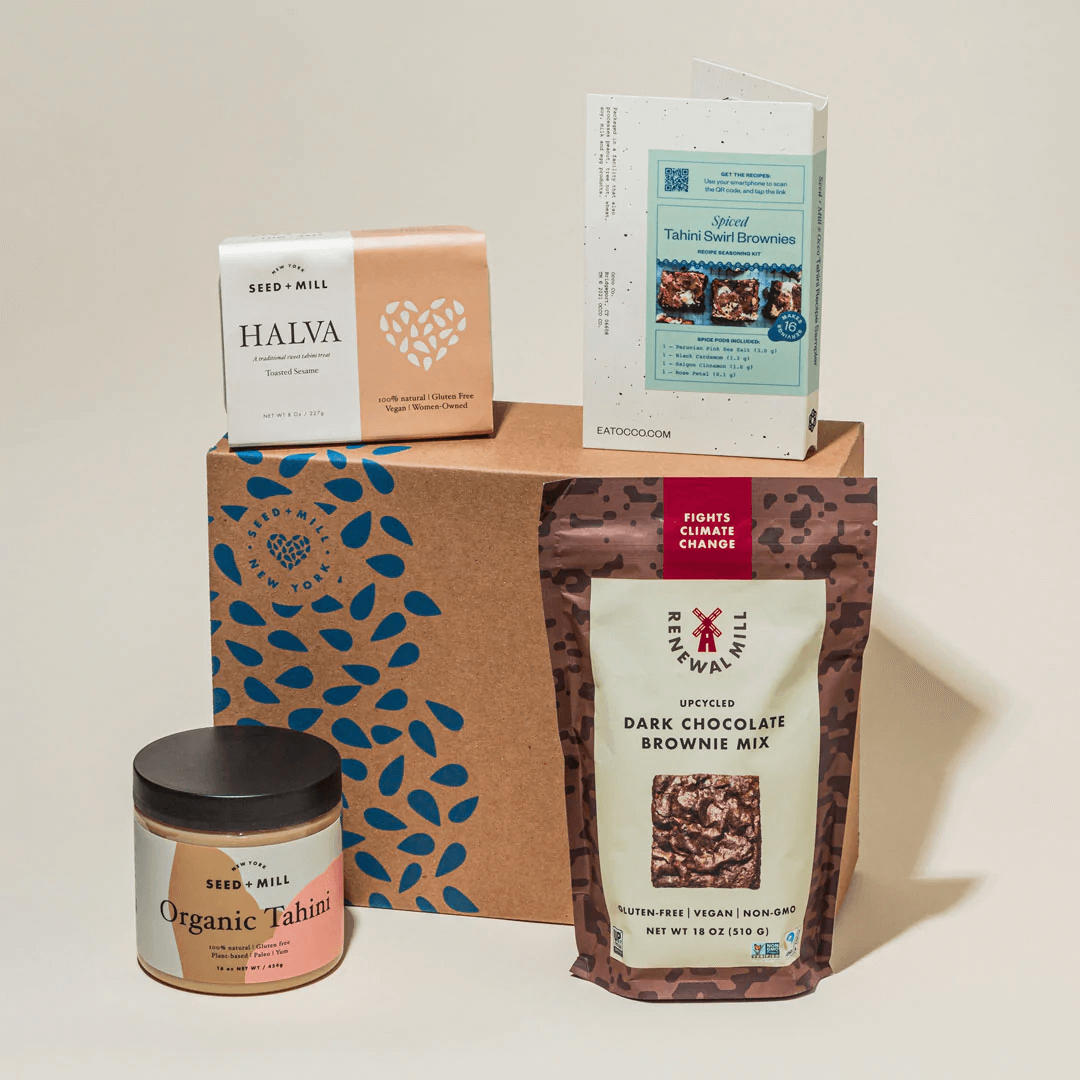 Seed+Mill
4. Seed+Mill
Tired of cookies? Try halva. This naturally vegan treat made from sesame seeds and sugar will instantly brighten your day. The texture starts out flaky but then melts in your mouth to disperse a taste of wonderfully sweet nuttiness. Seed+Mill offers an abundance of flavors from raspberry and coffee to pistachio and cacao nib. For gifting purposes, opt for the Tahini Swirl Brownie Baking Kit. It makes for an excellent White Elephant or Secret Santa present the recipient will actually use.
FIND OUT MORE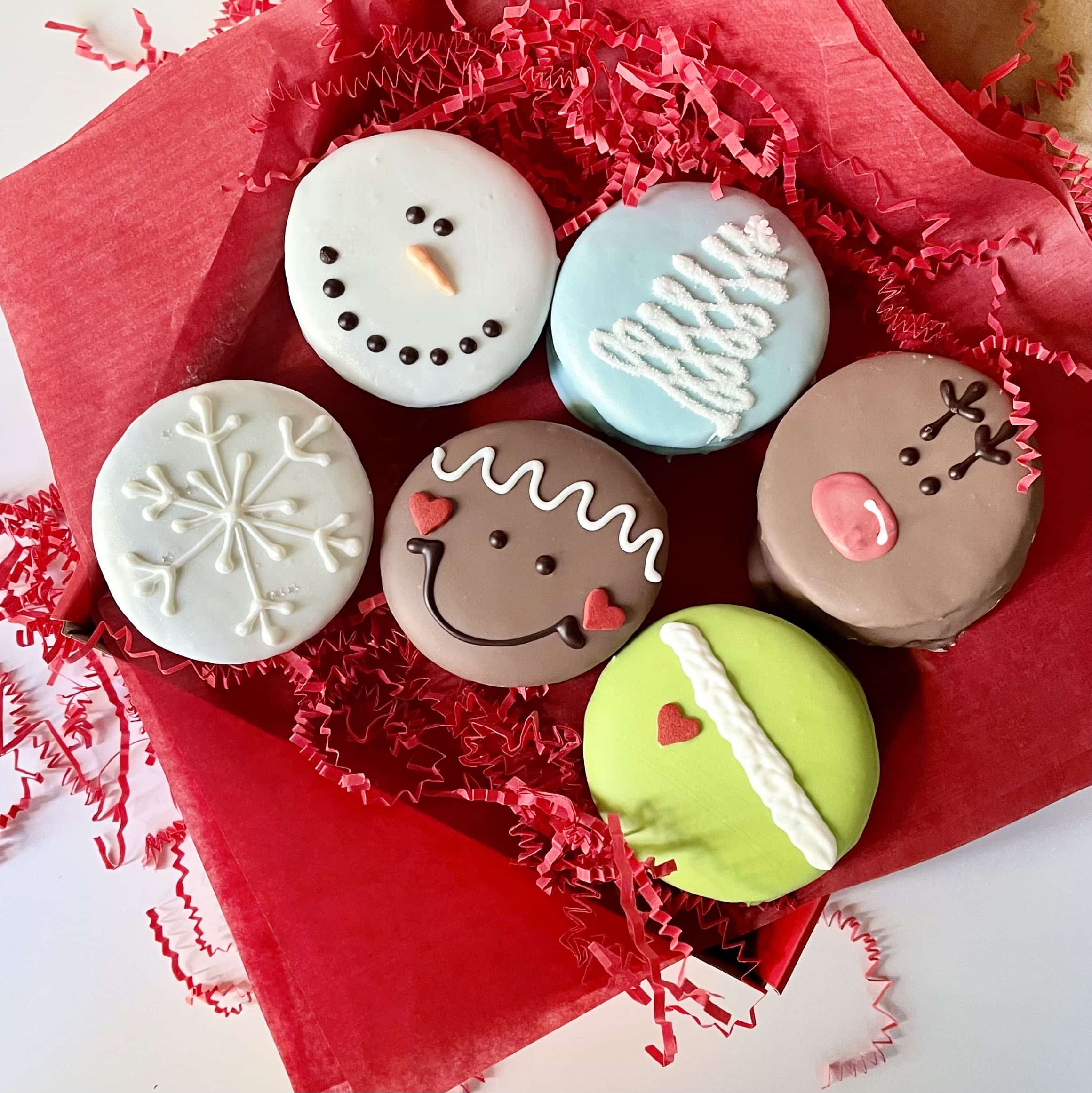 Karma Baker
5. Karma Baker
No matter the holiday, we can always rely on this inventive gluten-free baker to crank out a delicious medley of cakes, cookies, doughnuts, and more. For the winter season, there's a Cinnamon Roll Doughnut Box, Peppermint Crunch cake jars, marshmallow-filled hot cocoa bombs, cookies, and even full-sized seasonal cakes and pies that will endure a cross-country trip without a crumb out of place. 
FIND OUT MORE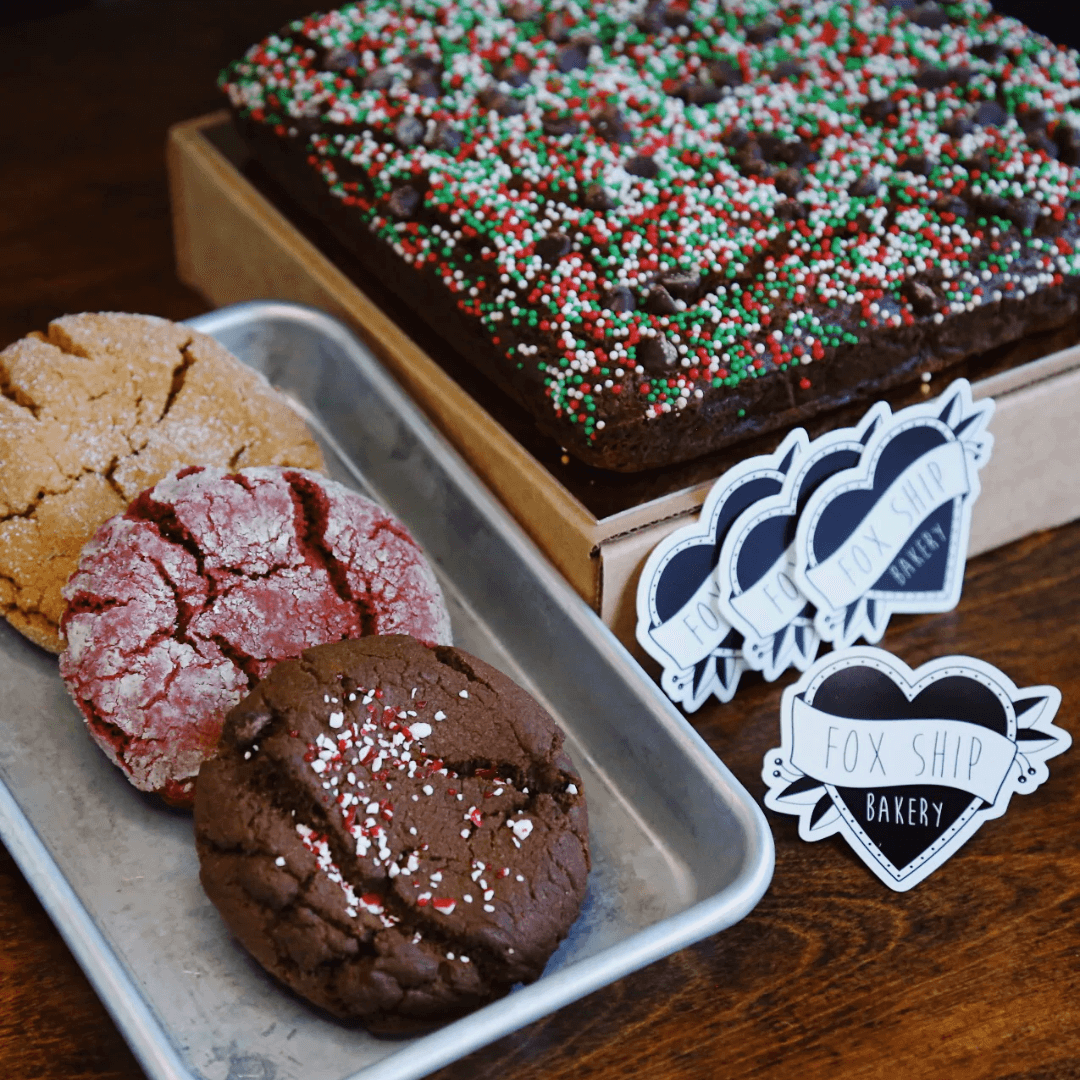 Foxship Bakery
6. Foxship Bakery 
Leave a few of these quarter-pound cookies for Santa, and he'll be sure to find an extra present in his bag for you. Holiday-themed flavors include sea salt-sprinkled Oatmeal Chocolate Chunk, Peppermint Crunch, and purely delightful Apple Butter. Extra-fudgy brownies are also available for shipping. Be sure to leave an extra-large glass of almond milk for dunking. 
FIND OUT MORE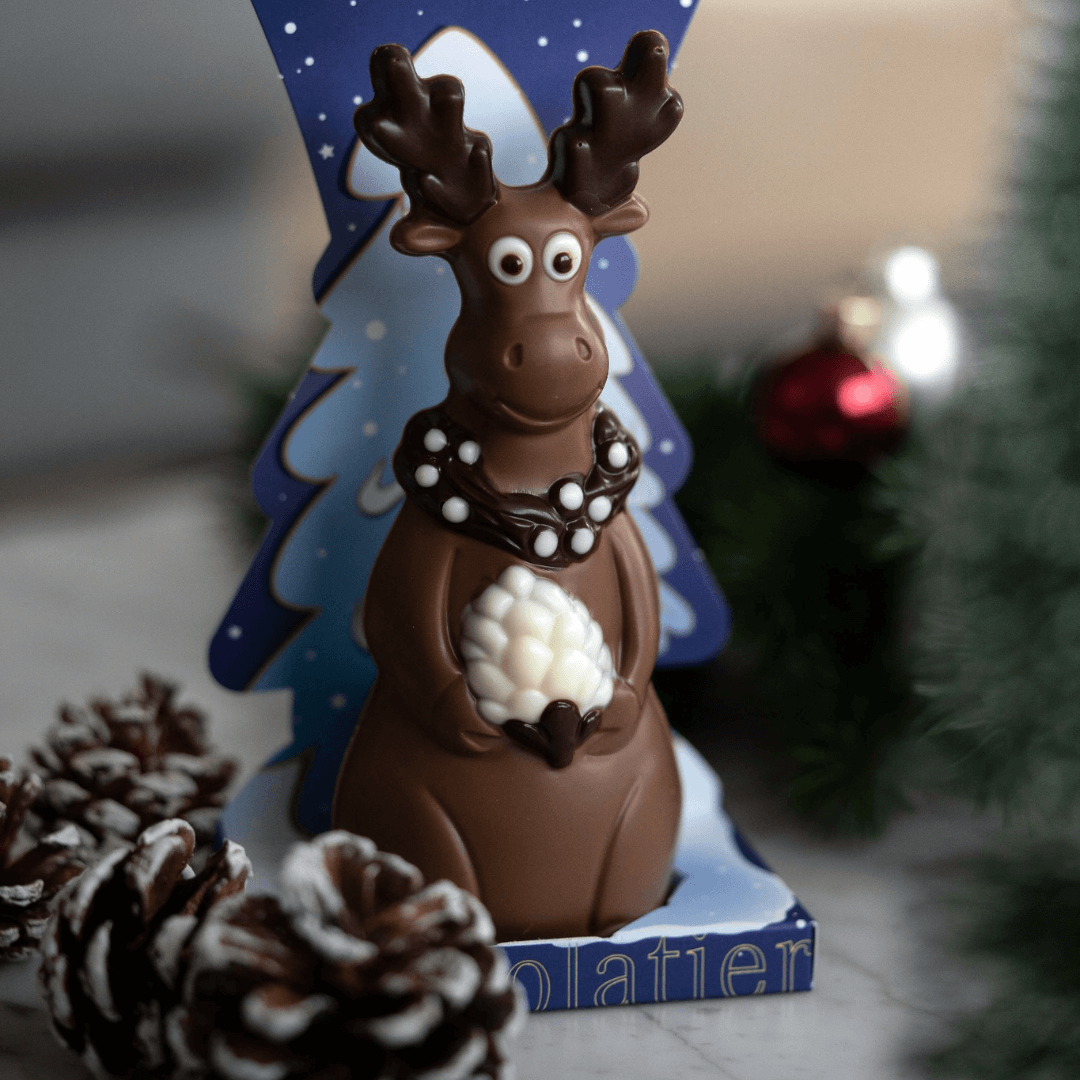 Läderach
7. Läderach
This Swiss chocolatier carries all of your stocking-stuffer essentials. From adorable dark chocolate reindeer to luxuriously creamy cashew milk chocolate studded with roasted and caramelized cashews, everyone will skip the presents under the tree and make a beeline for the stockings hung over the mantle.
FIND OUT MORE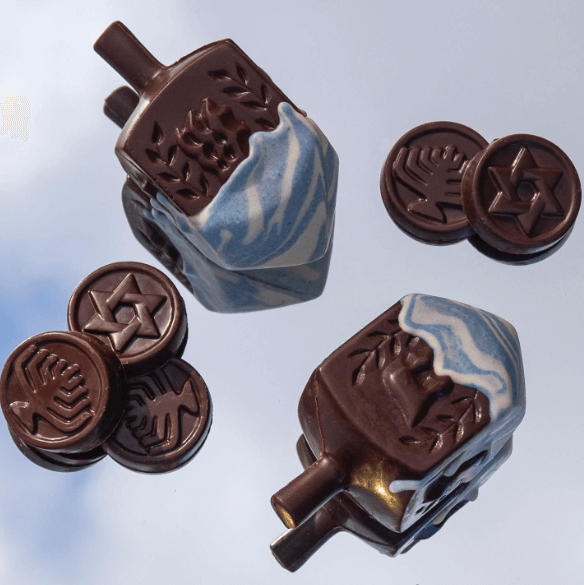 Lagusta's Luscious
8. Lagusta's Luscious
Whether you celebrate Hanukkah or Christmas (or both), this New York-based vegan chocolatier offers something for every celebration. From hand-dipped chocolate dreidels to an elaborate $155 Winter Solstice Collection, you can get all of your gift shopping done with just a few clicks of a button. FIND OUT MORE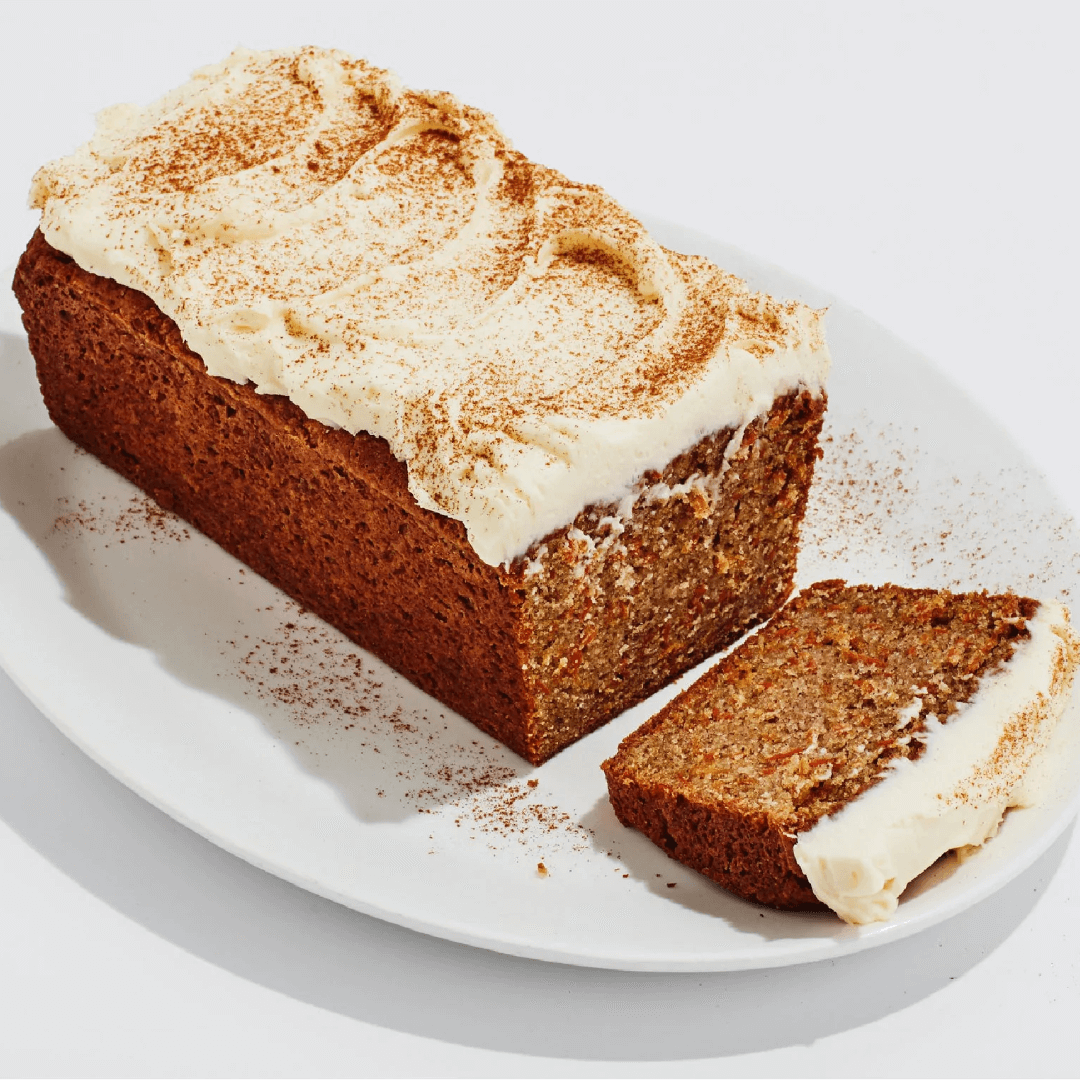 Giselle's Vegan Kitchen
9. Giselle's Vegan Kitchen
Tender pumpkin loaves, decadent three-tiered brownie cakes, and raw vegan chocolate boxes make up just a fraction of the offerings from this dedicated vegan, gluten-free, and refined sugar-free bakery. Each treat arrives in a whimsical, bright pink box and tastes like it was made by the Sugar Plum Fairy herself.
FIND OUT MORE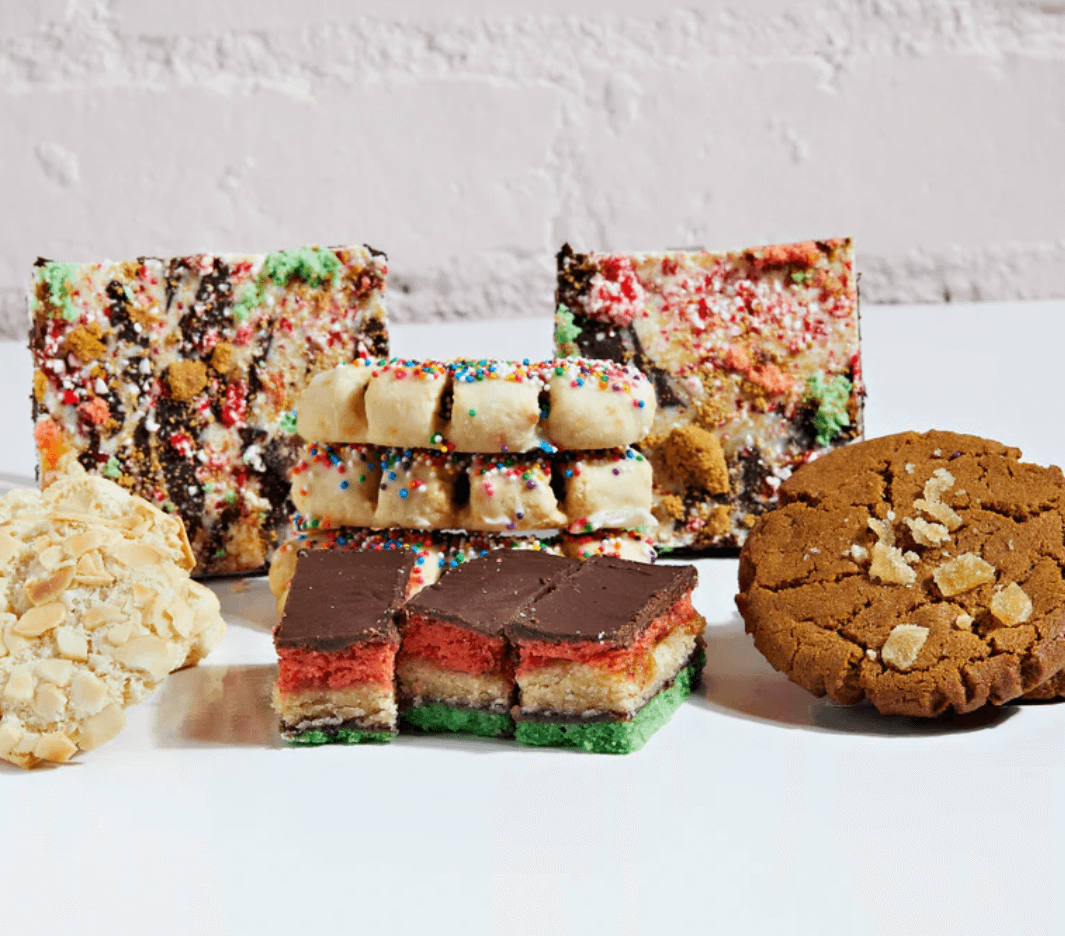 Sticky Fingers Bakery
10. Sticky Fingers Bakery
What is the difference between shipping your own homemade Christmas cookies and shipping cookies from Sticky Fingers Bakery? The treats from Sticky Fingers will actually arrive in one piece. Send the $32 Holiday Cookie Tin to anyone in the US and they'll receive fully intact rainbow cookies, amaretti, ginger snaps, cucidati, and chocolate bark that will make any Christmas seem a bit brighter. 
FIND OUT MORE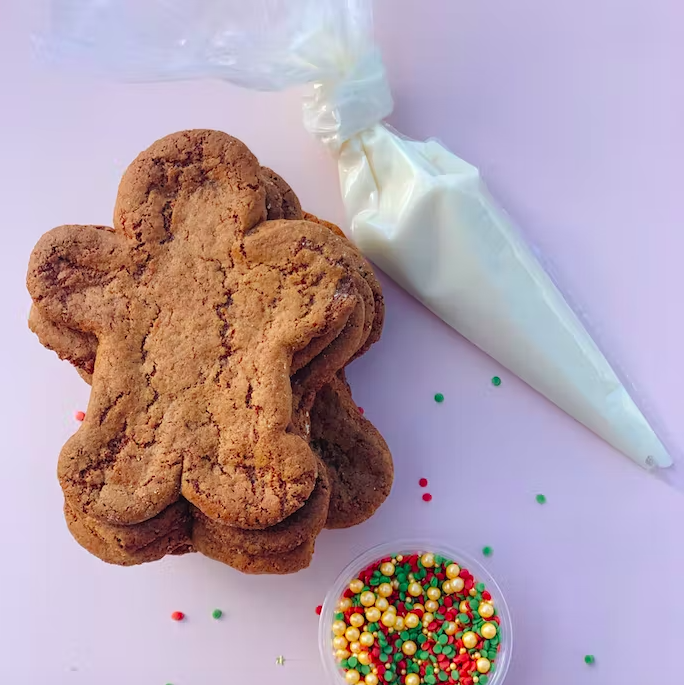 Erin McKenna's Bakery
11. Erin McKenna's Bakery
Order your gluten-free gingerbread people or dreidel cookie decorating kits from this bicoastal vegan bakery. The shop also offers a few bestsellers for nationwide shipping—from glazed gluten-free cinnamon rolls to challah and chocolate babka. No matter what you celebrate, Erin McKenna's has dessert covered. 
FIND OUT MORE
Dandelion Chocolate
12. Dandelion Chocolate
Yes, this San Francisco-based single-origin chocolatier sells chocolate, but the in-person and virtual experiences it offers is what drew our attention. Order your special someone a vegan-friendly Make Your Own Truffles Kit and sign them up for a virtual class to guide them through the sweet truffle-making process. The kit includes everything they need to follow along, minus the non-dairy milk. Virtual chocolate tasting courses are also available. 
FIND OUT MORE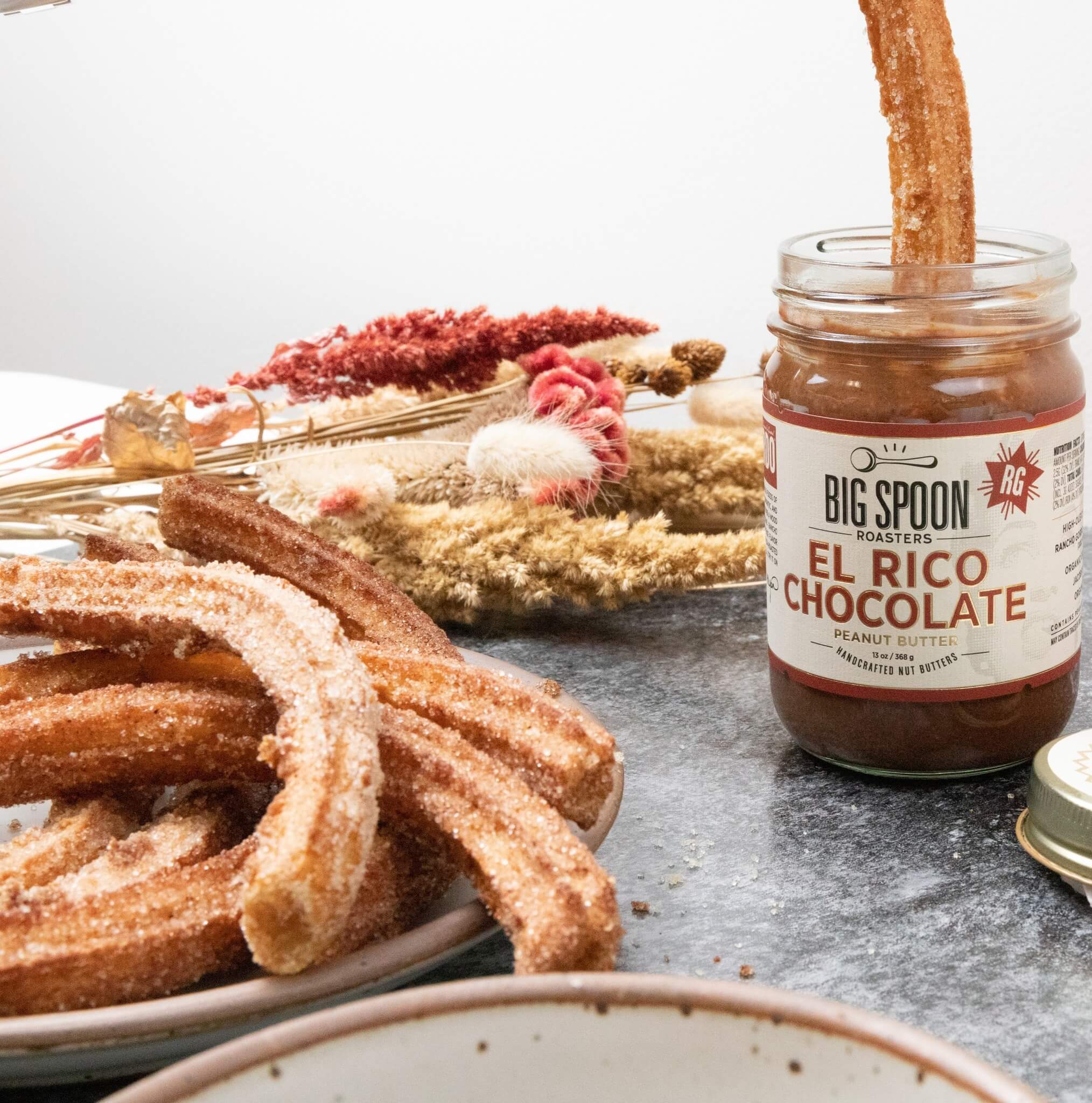 Big Spoon Roasters
13. Big Spoon Roasters
Fancy nut butter isn't for everyone on your list, but those who get a kick at the mere mention of pistachio butter or chocolate espresso almond butter will be tickled to receive a box of these gourmet, small batch nut butters. Vegan-friendly favorites include Tigerwalk Espresso, Fiji Ginger Almond, Cashew, and Crunchy Peanut (trust us, this is the crunchiest peanut butter ever). 
FIND OUT MORE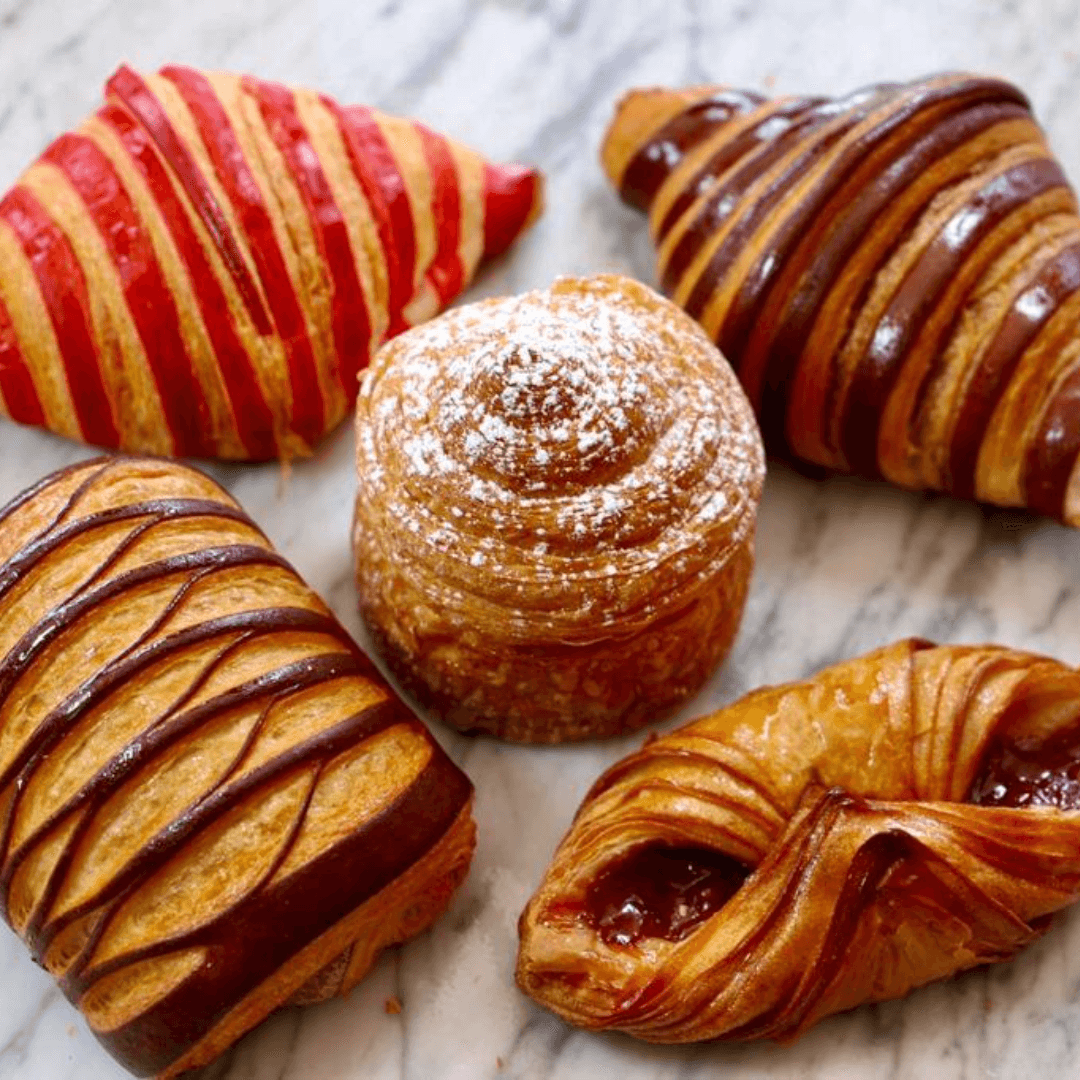 L'Artisane
14. L'Artisane Bakery
After trying our hand at making croissants from scratch, we were extremely skeptical when we heard this Florida-based patisserie was shipping them nationwide. Despite our reservations, these flaky, buttery vegan pastries tasted like they were made that morning, even after an overnight journey across the US. Gift the five-assortment Vegan Croissant Box which includes your choice of plain, Nocciolata, or cookie butter croissants; pain au chocolat; guava and cream cheese danishes; coconut caramel cruffins; or morning buns. 
FIND OUT MORE