Source: Green Global Travel
I grew up in a lower middle class family and worked my way through college. So I couldn't afford to travel internationally much until I was in my thirties.
For me, eating exotic food from around the world served as my first introduction to the culture of India, Morocco, the Middle East, Latin America, the Caribbean, etc.
As I fell in love with traditional dishes from around the world, I became more interested in the music, art, and history of these places.
That ever-expanding interest in cultural exploration is what ultimately led me to become a travel writer, which gave me a chance to try all sorts of wonderful and weird food around the world.
Over 20+ years, I got to break bread in local communities, interview local and internationally known chefs (including Anthony Bourdain) and explore traditional cultures on a much deeper level.
Check out our ultimate gourmet's guide to the Best Food Gifts From Around the World, from monthly food subscription boxes and foodie gift baskets to holiday food gifts and more!
READ MORE: Traditional Food Around the World: 30 Famous Dishes You Can Make at Home
BEST FOOD GIFTS FROM AROUND THE WORLD GUIDE
Baked Goods Gift Baskets
Chocolate Gift Boxes
Coffee & Tea Gift Sets
International Food Gift Boxes & Baskets
American

 

Food Gift Boxes & Baskets
Home Chef Food Gifts
BAKED GOODS GIFT BASKETS
1. MAYA'S COOKIES FIRESIDE COLLECTION & 2. CANDY CANE LAND
Maya's Cookies is a black-owned, vegan-friendly cookie company based in San Diego that we discovered a few years ago. They consistently offer great food gifts that touch your heart by reminding you of a different time.
One bite of her fresh-baked delights always takes me back to my childhood. One of the highlights of spending Christmas in Georgia always included the holiday tradition of making cookies with my mom.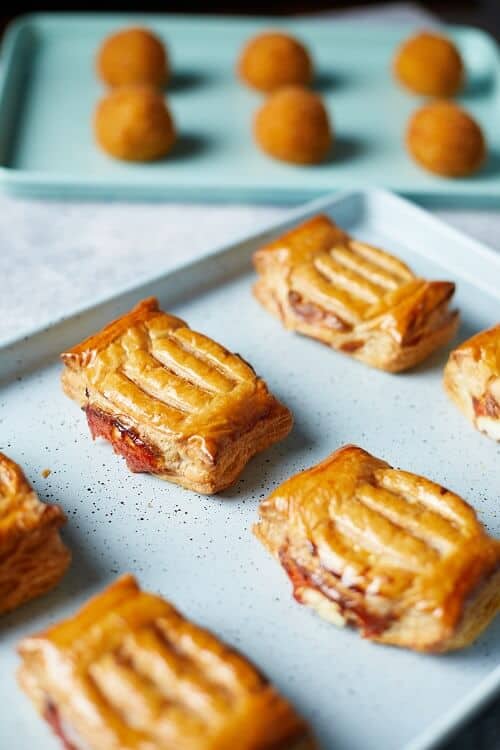 3. PORTO'S BAKERY & CAFE
Cuba is a country we've wanted to visit for years. And as anyone who's read our stories on Buena Vista Social Club or the Afro-Cuban All-Stars can attest, we are HUGE fans of Cuban culture.
So when we got a chance to sample some of the scrumptious Cuban culinary delights from Porto's Bakery & Cafe, we literally popped them into the oven almost immediately upon arrival.
All were better than most dishes we've had in our favorite Cuban restaurants in Atlanta. But her Refugiados– a light and tangy guava and cheese strudel– are addictive, making it easy to understand why Porto has become a Southern Cali legend.

4. TATE'S BAKE SHOP
Mary spent the first 14 years of her life in New York City, which has always been one of my favorite places to spend Christmas in the USAI consent to receiving emails and personalized ads.
Their Southampton Treats Tray is a great foodie gift basket for families, offering a sampling of Tate's best baked goods as well as 3 bags of their signature cookies. 

5. CREAM BAKERY
One of our favorite "new to us" discoveries, Cream Bakery is a family-owned business based in New Jersey that focuses on the kind of fresh-baked goods your grandma used to make. 
Cream offers four different flavor combinations, each of which is available in boxes of 8 (for $29) or 16 bars ($56). 
Mary especially loved their Chocolate Lover's Gift Set, which included 2 Fudge Brownies, 2 Chocolate Chip Blondies, 2 S'mores Cookies Bars (topped with toasted marshmallows), and 2 Nutella Swirl Bars.
The latter was our favorite, with a delicious chocolate hazelnut ribbon. But all of them were moist, rich, full of flavor, and perfectly sized for post-dinner indulgence. 
6. MARIEBELLE CHOCOLATE ADVENT CALENDAR & 7. VENCHI ADVENT CALENDAR
Advent Calendars make great Christmas gifts if you're willing to send them a bit before the holiday, but they also make a delightful treat for yourself! 
NYC-based brand MarieBelle has an upscale shop in Soho that specializes in artisan bean-to-bar chocolates made with the finest quality cacao beans, with lots of great luxury food gifts for chocolate connoisseurs.
Their limited-edition Chocolate Advent Calendar makes a fantastic Christmas gift, with a gorgeous design that captures the whimsical allure of their holiday storefront.
Inside each compartment you'll find divinely upscale sweets, ranging from petit chocolate pearls and caramels a chocolate tree, peppermint bark, and much more.
Venchi is an Italian chocolate company founded in Turin by Silviano Venchi back in 1878. They made their name with Nougatine, which blended dark chocolate with chopped, caramelized Piedmont Hazelnuts. 
Their Prestige Advent Calendar is exquisitely designed and contains 31 scrumptious chocolates ranging from Chocoviar and Cremini to terrific Truffles with chocolate mousse, caramel, and hazelnuts inside.
Much like the MarieBelle calendar, it's a great gift you'll want to reuse year after year! 
8. GOODNOW FARMS CHOCOLATE GOLD WINNERS COLLECTION & 9. SUGAR PLUM CHOCOLATE BARS 
If you've got a gourmet chocoholic on your Christmas gift list, chocolate bars are always a great stocking stuffer. But not all chocolate brands are cut from the same cloth, and some are so swanky they deserve ribbons and bows. 
Take the MA-based Goodnow Farms Chocolate. Their ethically sourced, single origin bars have earned more awards than any other North American chocolate maker, and "Best Chocolate in America" honors from Food & Wine. 
The Gold Winners Collection includes 6 of their most award-winning bars, including 70% dark chocolate bars from Ucayali, Peru and Esmeraldas, Ecuador, and a 77% dark chocolate bar from El Carmen, Nicaragua.
We especially love the "Special Reserve" flavored bars, which include Las Palomas Coffee, Lawley's Rum, and Putnam Rye Whiskey.
If you're looking for a more budget-friendly brand, Sugar Plum Chocolates offers a choose-your-own Nostalgic Chocolate Bars 5-Pack at about 1/3 the price of the decidedly upscale Goodnow Farms gift set.
Available flavor options include Peanut Butter & Jelly, Fruity Flakes (with crushed Fruity Pebbles inside), Pancakes & Syrup, and Milk & Cookies (Santa's favorite).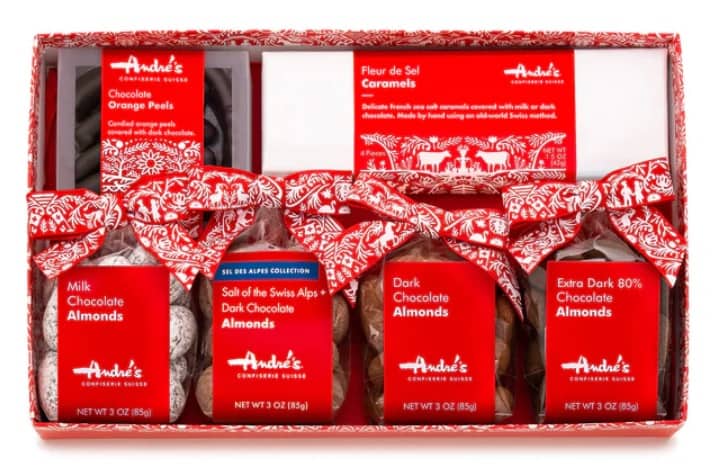 10. ANDRÉ'S CONFISERIE SUISSE BEST SELLER GIFT BOX
Founded in Kansas City MO in 1955 by Master Konditor-Confiseur André Bollier, Andre's Confiserie Suisse has always been dedicated to classic Swiss chocolate techniques and classic recipes. 
Today the company is run by André's grandson, Pastry Chef /Chocolatier René Bollier, who apprenticed under his grandfather and father and trained in Switzerland. 
With four different size options ranging in price from $45 to $150, their Best Seller Gift Boxes make a wonderful introduction to the Andre's Confiserie Suisse line. 
We sampled the $125 Gift Box, which weighs nearly 4 pounds and includes 10 types of chocolate. There are various chocolate-covered almonds, chocolate-covered sea salt caramels, Signature Hot Chocolate, and other standards. 
But our favorites were the Chocolate Hazelnut Butter, KC Whiskey Caramel Bar, Chocolate Orange Peels, and Chocolate Mint Leaves (which taste like a gourmet version of Andes Crème de Menthe). 
SEE THE FULL ARTICLE HERE: https://greenglobaltravel.com/best-food-gifts-from-around-the-world/