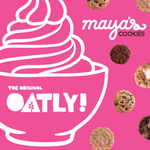 SAN DIEGO, California (April 30, 2021) - 
Maya's Cookies will proudly be serving Oatly Soft Serve in her San Diego storefront. This luscious dairy-free, oat-based soft serve will be available beginning May 1st alongside her award-winning vegan cookies. 
As a vegan-foodie anchor in San Diego, Maya's Cookies is excited to offer Oatly Soft Serve ice cream, which originally debuted in New York in September 2020. 
"We are so thrilled to offer this tasty treat with our cookies! What better way to celebrate summer in San Diego, than with Oatly's soft serve and Maya's Cookies. We hope that you'll come to the storefront all summer long to cool off and enjoy our sweet treats," says Maya Madsen, Owner and Founder of Maya's Cookies.
Offering vanilla, chocolate, and swirl to Maya's Cookies customers, they will also be able to choose from a variety of topping options or simply dunk one of Maya's award-winning cookies in the cup! Each cup will be topped with one of Maya's signature mini chocolate chip cookies, this soft serve is the perfect plant-based treat for anyone -- vegans and non-vegans alike.
Soft serve is available in store for $6.50 plus additional charges for Maya's gourmet toppings.
Maya's Cookies' storefront is open Wednesday through Sunday from 10 a.m. to 3 p.m.. Located at 4760 Mission Gorge Place, Unit G, San Diego, CA 92120. 
About Maya's Cookies:
 Founded in 2015 by Maya Madsen, Maya's Cookies is America's #1 Black-Owned Gourmet Vegan Cookie Company. As a vegan with a sweet tooth, she had not been able to find that perfectly delicious, soft-baked gourmet vegan cookie, so she spent years crafting her award-winning and crowd-pleasing recipes. From the classic to unique and forward-thinking flavors such as "Chocolate Chip S'mores" and "Marble Fudge", every flavor has a story grounded in Maya's travels, memories, and experiences. Alongside providing the highest quality product that appeals to everyone, Maya's Cookies is committed to superior customer service and community engagement, with a focus on youth and underserved communities. Maya's Cookies ships nationwide- simply order as a treat for yourself or as a gift.