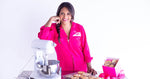 It has been said that children decide what they are going to do or be when they are around 8 years old. Maya Madsen grew up in a foster home and struggled with being unloved and with food insecurities. "I went to bed hungry many nights. I vowed when I had kids, I would never let them go to bed hungry. When I went to 6th grade and Girl Scout camps, I was so happy because we had three square meals a day." To Madsen and many other people, food is love. She loves to cook and that is how she shows love to her family and the world.
Madsen left home at 18 years of age. "It was not a place of love," she says.  She declared that her house would always have plenty of love and food and that her sons would never experience the lack of it as she did. She went on to study food and nutrition and became a fitness instructor.
"I was the mom bringing healthy snacks to my son's different events. I taught my kids healthy eating habits," she says. When her husband lost his job during the 2008 recession, which was very traumatizing, Maya says, "I mastered the $2.00 homemade pizza. We had this for dinner many nights. My boys would take the pizza and cookies to school and sell them to kids."
Baking for a Purpose 
Fifteen years ago, Madsen began to identify as a vegan. "I knew the diseases that are common among African American people, and I wanted to make sure I didn't fall into that category," she says, sharing her decision to embrace a plant-based lifestyle.
However, finding plant-based foods initially was a challenge, so she started experimenting on her own. As a personal trainer, she always ate healthily and allowed herself a cheat day. On that day she made cookies. "Everyone needs a cheat day," she laughs. "As a vegan, I wanted to show that plant-based eating isn't boring but actually tasty. I wanted to create excellent vegan cookies using the best quality of ingredients."
Eventually, she found the ingredients and a recipe that she liked. She started experimenting and found that people loved her cookies. This was how she was going to make the money to put her boys through college. "The first year was a blur. I'd teach spin classes, cook, sell and repeat." She founded Maya's Cookies in 2015.
Building Community
Madsen started selling her cookies at farmer's markets throughout San Diego. She had a hard time breaking through the wall at first. "They told me they had plenty of baked goods stalls. However, I have learned not to take no for an answer. I just find a way and figure it out. Once I was given a site at a farmer's market, I felt I had to set myself apart from others. I set my tent up early. I made it appealing, organized and neat," she says.
In fact, during her first weekend, she sold 800 cookies in one day. "Since that time, I count the farmer's market community and the market owners among my biggest supporters. I'm grateful that they pushed me, for at the end of the day it made my product and presentation better. As a result, they've asked me to participate in training new entrants into the farmer's markets as to how to be successful."
When she could no longer work out of her home kitchen, initially, she used credit cards to pay for permits, licenses and rent for a commercial kitchen space. "I had secured an opportunity to rent kitchen space in a sauerkraut factory, and then I qualified for a microloan that enabled me to staff up and expand."
Over the past few years, people would pass by her bakery, peek in the windows and ask to buy her cookies. "I was only licensed to sell online, so I had to turn people away," Madsen says. "I always want to do what my customers want, so I decided to get all the city permits to sell directly from our bakery. We took the lobby of our kitchen and transformed it into a boutique storefront. After our opening in November, we have loved seeing our fans, neighbors and community show up. One of my favorite things about my job is getting to know the community first-hand."
Maya's Bakery
Today Madsen has opened a retail storefront location in San Diego where she offers a variety of cookies and is constantly rotating them in and out. Some popular ones are her Classic Chocolate Chip, Birthday Cake, Snickerdoodle, White Chocolate Macadamia, Chocolate Chip S'mores and Marble Fudge.
Gluten-sensitive patrons are also in luck. Madsen has expanded her business to include gluten-free cookies. The bakery is not "celiac safe" as they cook with regular flour and gluten-free flour in the same facility. But, depending on your level of sensitivity, you can enjoy two or three flavors that she has on hand at a time. It took her a few years to add these to her menu since she had to perfect her recipes.  She has 12 flavors in her repertoire. To check specific ingredients, look on her website where she lists every cookie detail.
Giving Back
"Whenever an African American woman comes into the bakery with her daughter(s) to show them what a successful Black-owned, female business looks like, I drop everything and give them the deluxe tour. I also try to give them internships and help them learn about business," she says
Madsen's business philosophy is to give back. "I always choose charities in underserved communities," says the owner of America's #1 Black-Owned Gourmet Vegan Cookie Company.  The proceeds from sales will support two charities near and dear to her heart: helping young women of color through high school and college and an animal refuge.
Madsen's two oldest sons have both graduated from college and continue to eat healthily. The oldest is in the tech industry in San Francisco, and the middle son is a director of finance for a large company. Madsen hopes to snap him up in a few years and make him her CFO. Her youngest son is studying marketing at Marquette University in Milwaukee, Wisconsin.
Cookies for All Occasions
Madsen wants to be the Harry and David of cookies. She incorporates beautiful packaging into her gifts. You can order them for any occasion for your loved ones at www.mayascookies.com. "The funniest order I ever received was a celebration of a mastectomy. Proof that there are many things to celebrate," Madsen says.
It is possible to have a tasty, ooey-gooey cookie that is vegan. Egg-free and butter-free never tasted better than Madsen's cookies. Madsen, owner and baker, has taken her passion for cooking, healthy eating and having a sweet tooth to a new level with a loyal fan base and the accolades to prove it.
To order online or for information on ingredients and cookie selection, go to www.mayascookies.com. If you're looking or a sugar tease, be sure to stop by Maya's Cookies on Instagram.
Read the original article here