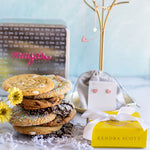 FEMALE-POWERED BUSINESS COLLABORATION FOR A WHOLESOME MOTHER'S DAY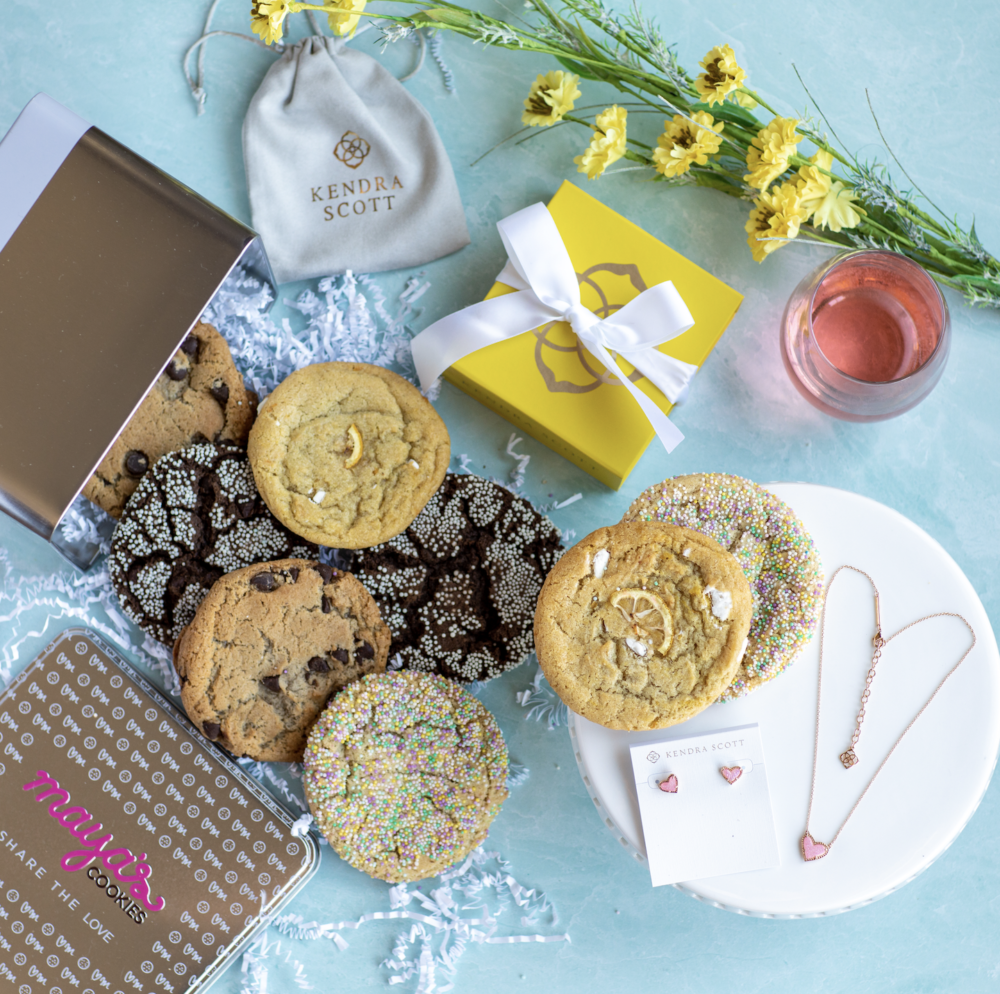 Seeking the perfect Mother's Day present? Look no further than Maya's Cookies' and Kendra Scott's #MakeMothersDayGolden partnership!
The new Mother's Day Collection comes in a gorgeous tin packaging and includes 8 delicious cookies:
·        2 Classic Chocolate Chip
·        2 Spring Sprinkles
·        2 Chocolate Chunk with Pearls
·        2 Lemon Meringue
Maya's Cookies founder Maya Madsen has always been a fan of Kendra Scott and felt deeply aligned with the company values and philanthropy. Madsen states, "As a mother myself, I know the sacrifices we make to keep the family going and I would love to think that this partnership will lift someone up this Mother's Day."
Kendra Scott's team is equally appreciative of this collaboration. In their press release, Kendra Senior Marketing Manager, Jill Krenka says- "We were thrilled to partner with Maya's Cookies this Mother's Day. We all know how important celebrating Mothers, Mother-figures, and the women in our life is and it feels great to know that a few lucky people will get a gorgeous surprise this Mother's Day. I mean, cookies and jewelry? That's self-care." 
If a box of scrumptious cookies isn't enticing enough, those who order the Mother's Day Collection on the Maya's Cookies website or at their San Diego storefront, will have a chance to be one of five lucky winners. Those five lucky winners will find a Golden Ticket inside their special Mother's Day Collection Premium Tin, which rather than a trip to a wonky chocolate factory, will grant them a stunning necklace and earring set from the Kendra Scott Ari Collection.
About Maya's Cookies
Founded in 2015 by Maya Madsen, Maya's Cookies is America's #1 Black-Owned Gourmet Vegan Cookie Company. As a vegan with a sweet tooth, she had not been able to find that perfectly delicious, soft-baked gourmet vegan cookie, so she spent years crafting her award-winning and crowd-pleasing recipes. From the classic to unique and forward-thinking flavors such as "Chocolate Chip S'mores" and "Marble Fudge", every flavor has a story grounded in Maya's travels, memories, and experiences. Alongside providing the highest quality product that appeals to everyone, Maya's Cookies is committed to superior customer service and community engagement, with a focus on youth and underserved communities. Maya's Cookies ships nationwide- simply order as a treat for yourself or as a gift.
About Kendra Scott
Kendra Scott is a leading fashion accessories brand inspired by the personal experiences, travel, and sense of community of its founder and designer, Kendra Scott. With over 2,000 employees, Kendra Scott has over 110 standalone stores across the US and is sold in premiere retailers including Neiman Marcus, Nordstrom, Bloomingdale's, and 600 specialty boutiques worldwide and boasts a thriving web business. Kendra Scott is known for its kaleidoscope of beautiful accessories as well as the innovative and customizable Color Bar™ experience. As the brand continues to grow, the company remains true to its founding philosophy of "Family, Fashion, Philanthropy" and since 2010, the company has given back well over $30 million to local, national, and international causes.
Read the original article here