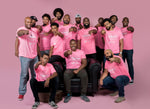 Black SD Magazine is working in partnership with the American Cancer Society and Maya's Cookies to raise the needed awareness for African American women to perform breast cancer screenings early. The mortality rate for African American women is 40% higher than any other raise when diagnosed with breast cancer and that statistic doubles when they reach over the age of 50. 
For the month of October we are dedicating all our efforts to help in the fight against breast cancer by participating in the Real Men Wear Pink Challenge by raising funds for the cause, promoting early screening and at home techniques, and providing more health and wellness content via our publication and platform. Our goal is to raise over $2,500 and with your help we can accomplish that and more. 
This past weekend we held our Real Black Men Wear PINK Photoshoot which had 16 African American men participate in a shoot to show our solidarity and support for the fight against breast cancer for African American women and all women in general. We hope this helps change the narrative and encourage more men in all communities to fight for this cause. These men are business owners, fathers, brothers, sons, and friends working together to create awareness for women.