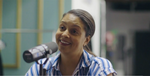 Black SD Magazine had the exclusive pleasure to sit down and chat with Maya Madsen. She is the founder and owner of Maya's Cookies the #1 Black Owned Gourmet Vegan Cookie Company in the USA!
Listen as I learned how she turned her joy of all things sweet into a business that delivers to all 50 states and including international to places like Guam and Puerto Rico.
Maya went from baking in her home to farmer's markets to her own facility in the matter of 5 years. 
This was her way of taking full control of her life, creating generational wealth for her family, and paying for her 3 sons to attend college. 
Listen to the full episode here.