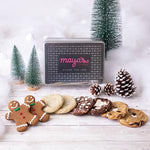 NOV 16, 2020 BY: KAYLA PASKO
Need some fresh baked cookies for your next dinner party, or perhaps a box of plant-based goodies to gift to a friend? Great news! There are many vegan-friendly bakeries that ship nationwide, so you can impress family and friends with tasty plant-based treats—no baking required! From chewy, chocolaty cookies to creamy peanut butter layer cakes, it can all be yours with just a click of a button. Here are 10 companies that ship vegan baked goods straight to your door!
This holiday, Maya's has put together beautiful tins with delicious seasonal flavors. Choose from three gourmet vegan combinations, including Deluxe (2 Gingerbread, 2 Classic Sugar, 2 White Chocolate Cranberry, and 2 Chocolate Peppermint S'mores flavors), Gingerbread (includes 8 cookies total), and Classic Holiday (4 Gingerbread and 4 Classic Sugar Cookie flavors). Each is perfect for gifting to a loved one or offering at a secret Santa gift exchange! Use promo code VEGOUT10 for 10% off your purchase!
Read the full article here