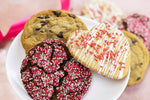 By Allie Mitchell
Share your love through vegan desserts!
No matter your relationship status, we can all agree that desserts are a highlight of Valentine's Day. Rather than going for store-bought candy and dark chocolate this year, why not order artisan vegan pastries? Here's a list of bakeries that ship vegan Valentine's Day treats nationwide.
This popular DC-based vegan bakery offers three festive dessert kits for nationwide shipping. First is the Conversation Heart Cake Pops which come frosted with cheeky sayings like, "Call me" and "xoxo." Next up? The Hot Hearts Cookie Deco Kit—an interactive dessert for you and your lover (or bestie). Lastly, Sticky Fingers crafts Valentine's Day Cookie Tins with Linzer, Rainbow, Red Velvet Crinkle, and Mexican Chocolate Snickerdoodle Cookies.
Feeling spontaneous? Order Madame Shugah's Secret Valentine Mystery Box. We can't tell you much about what comes in the box, but we can share that everything will be vegan and gluten-free. And more than likely, you'll find a special Valentine's Day tart in the box. So get your orders in now and prepare for a sweet surprise!
If you're nervous to say those three little words, Yvonne's Vegan Kitchen has you covered! Their Valentine's Day Cake can be ordered to say, "I love you" in vegan buttercream frosting. Just choose from vanilla, chocolate, funfetti, and red velvet for the cake base.
Whether you're single, taken, or in a "complicated" relationship, vegan cookies are always the answer! Maya's Cookies' Valentine's Collection contains chocolate chip, double chocolate, and heart-shaped sugar cookies topped with vegan white chocolate and sprinkles.
We've got nothing but heart eyes for Erin McKenna's Bakery! The vegan bakery's shippable festive treats include three heart-shaped offerings. What are they? Sugar cookies, cookie cakes, and classic cakes.
Looking for a vegan take on a classic box of chocolates? Order Karma Baker's Be My Valentine box of chocolates. Each heart-shaped box contains six cake truffles, and twelve foil-wrapped chocolates filled with chocolate buttercream, strawberry buttercream, and salted caramel. Be sure to shop Karma Baker's other vegan, gluten-free Valentine's Day sweets while you're at it.
Don't like bright colors, heart-shaped candies, or love songs? Vegan Treats offers Goth vegan desserts that will make you actually like Valentine's Day. Their Fatally Yours 2023 Limited Edition Valentine's Day Chocolate Box features vegan chocolates in muted colors and spooky shapes. We're obsessed!
Vegan macarons are hard to find. But what if we told you there's a bakery that offers vegan heart-shaped macarons for doorside delivery? That's right, Verón brought back their 6-pack Conversation Hearts and Rose Chocolate Hearts macaron sets for the love-filled holiday.
It's love at first bite with The Naughty Cookie's Valentine's Day flavors! For something fruity, order the Love Shack Cookies with freeze-dried strawberries and dark chocolate chips. For something chocolaty, get the double chocolate Cupid Cookies topped with pink sprinkles. And for something uber sweet, buy the Valentine's Confetti Cookies with vegan marshmallows and festive sprinkles. Can't decide? Try all three in the The Naughty Cookie Love Box.
Calling all red velvet lovers! Southern Roots Bakery makes two desserts you'll want to try this season—Red Velvet Donuts and Volcano Cakes. The donuts make for a perfect V-Day breakfast, and the volcano cakes serve as a decadent nightcap.
Vegan-Friendly
This cookie company went viral on TikTok—and we know why! For starters, their story is adorable. Founders Dougie and Sara Taylor spent their first date baking, which is what led to the launch of Taylor Chip. In addition, they offer droolworthy flavors, including vegan options. Their V-Day Vegan Bundle comes with Chocolate Chip, Loaded Peanut Butter, and Oreos & Cream cookies.
To read the full article, visit: https://vegoutmag.com/food-and-drink/vegan-valentines-day-treats/