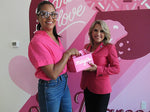 San Marcos Gets a Little Sweeter
Tuesday, July 26, 2022
Seyonna Hall is only 2 years old, but already she knows a good cookie when she sees – and tastes – one.
Observing dozens of oversized plant-based cookies – from Chocolate Chip S'mores to Ube White Chocolate to Cosmic Brownie – the toddler chose a rainbow sprinkled one, her eyes growing nearly as big as the sweets behind a glass counter at 
Maya's Cookies
 in San Marcos the morning of Friday, July 15.
Seyonna was among hundreds who waited in line for their moment to step foot in the second location of local favorite Maya's Cookies.
The new store is located along the main street in North City, the growing commercial, retail and housing development adjacent to Cal State San Marcos – a sort of mini community with mixed-use projects and student housing.

Maya's Cookies founder and CEO Maya Madsen, whose corporate headquarters in the Grantville area of San Diego has been open since 2015, had been in talks with Sea Breeze Properties ownership for more than a year to open a retail spot at North City.

"We are thrilled to bring Maya's Cookies to North City," Madsen said. "We love the 'city-within-a-city' concept, and feel that we are helping build a community, a destination, for people to connect and share a little happiness."
North City has been intentional about filling its spaces with local businesses, according to Darren Levitt, vice president of Sea Breeze properties.
North City's tenants also include Buona Forchetta, Draft Republic, Mesa Rim Climbing Center and Wynston's Ice Cream – conveniently located right next to Maya's.

"We are extremely excited to have Maya's Cookies here," Levitt said.

Levitt said that adding Maya's Cookies to North City's mix is an integral part of the developer's plans to fill its spaces with local businesses versus corporate entities. Levitt met Madsen through San Marcos Mayor Rebecca Jones, who had interviewed Madsen for a podcast she produces.
 
"When we met Maya about 18 months ago through the mayor, she kind of blew us away," Levitt said. "We saw immediately Maya's whole ethos is about putting smiles on the faces of the community.
 She has such a great following of community members. The people who are part of Maya's Cookies today – every one of them has a big smile on their face. And that's the kind of people we like to interface with and do business with. She kind of blew our socks off with her brand name, her style and of course the product is just incredible."
North City Becoming 'Downtown' For San Marcos

Jones said she had been long thinking about connecting Madsen and Sea Breeze, a development that won approval in 2009 when Jones was on the San Marcos City Council. Jones said she is always seeking to bring more small businesses to the area and said that North City appears to be becoming San Marcos's long-sought "downtown" for the city of 98,000 residents.

Madsen said many of her regular customers are from Los Angeles, and that having a spot in North County will help cut the travel time for those who head south looking for their vegan cookie fix.
 
Maya's Cookies makes about 1,000 cookies every day to satisfy the sweet tooths of not only vegans but cookie fans in general. During peak season, October through February, that number triples, Madsen said.

When she wasn't checking with bakers and staff, Madsen mingled with a seemingly non-stop line of customers on opening day, many of whom asked her to pose with them for selfies.

Among those in attendance was local radio station 93.3, and VIPs including former National Basketball Association star John Salley and San Marcos Mayor Jones.

But for Madsen, 52, the most important customers she gets are the ones like Seyonna, young Black girls who in Madsen will have someone who looks like them to emulate, she said.

Modeling for the younger generation and mentorship like Madsen offers students through her board membership and work with Junior Achievement of San Diego County are what Madsen cares about most as she continue to build on her success.

Maya's Cookies is the top-selling Black-owned gourmet vegan cookie company in America, and Madsen has recently started appearing and selling her cookies on Home Shopping Network.

"I want girls that look like me to see 'CEO and Founder' looks like them -- Brown and all the things," Madsen said. "I want girls to see this is what that looks like. Representation is so important to me."

Maya's Cookies is located at 250 North City Drive, Suite 8. Regular store hours are 11 a.m. to 9 p.m., Tuesday through Sunday.
Maya's Cookies

FOUNDED: 2015
FOUNDER AND CEO: Maya Madsen
HEADQUARTERS: Grantville, San Diego
BUSINESS: Plant-based cookie manufacturer
EMPLOYEES: 25
WEBSITE: 
https://www.mayascookies.com/

CONTACT: (858) 265-9957
SOCIAL IMPACT: Madsen provides mentorship on board of Junior Achievement of San Diego County and works with the JA Fellows at Lincoln High School.
NOTABLE: Madsen is highlighting female- and black-owned companies, offering their beverages in the Maya's Cookies grab-and-go refrigerator.