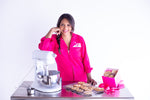 Alright – so today we've got the honor of introducing you to Maya Madsen. We think you'll enjoy our conversation, we've shared it below.
Maya, thanks for taking the time to share your stories with us today If you're open to it, can you talk to us about the best (or worst) investment you've made. What's the backstory and the relevant context behind why you made the investment.
My team has definitely been my best investment throughout the Maya's Cookies journey. I started this business with just me – baking, selling, packing orders and now we have a strong, diverse team in which everyone utilizes their own unique skills to help catapult the company forward.
As we started to grow, I invested any money made in building that team. I was seeking people that either had tons of experience, great attitudes or great potential (but usually a combination of all three). I brought in a PR consultant to take our organic growth to the next level and I put together a team of bakers that understood the vision of the brand and why our cookies are so special.
When the opportunity presents itself and you find the right people, you want to act on it, even when money is tight. Creating a strong team allowed us to be more efficient, more creative and ultimately, more successful.
Awesome – so before we get into the rest of our questions, can you briefly introduce yourself to our readers.
My name is Maya Madsen and I am the founder and CEO of Maya's Cookies, America's #1 Black-owned gourmet, vegan cookie company. I started the business in 2015, after spending 20 years in the fitness industry as a model and spin instructor. As a longtime vegan, I struggled to find a gourmet, decadent vegan cookie that satisfied my sweet tooth so I started baking them myself!
I started small, sharing my cookies with friends and family and eventually transitioned into the local farmers market scene. Word began to spread among the San Diego vegan community and I slowly started adding more flavors to my weekly offerings. Fast forward to now, we operate our own facility to ship our cookies nationwide, have a flagship store with a second location coming soon and have established Maya's Cookies as a local vegan staple.
That is all to say, I am most proud of how far we have come as a business. I truly bootstrapped my way through the first few years of operation. I didn't have access to or even know about many resources and people struggled to accept my vision for Maya's Cookies as a serious business idea. I believed in the company from the beginning and I truly think that's what helped carry me through all the ups and downs. Now, with the success that we have I try to give back to my community and provide those resources to other black business owners working to make their dreams a reality.
Can you talk to us about how your funded your business?
When starting the business, I only invested in the absolute necessities. I opened a credit card with a limit of three thousand dollars and I spent the entirety of it on permits and supplies. I needed just enough to make my first market appearance successful – tables, a tent and the necessary documents. From there, every dollar made was put toward growing the business and upgrading supplies and branding materials. It was an uphill battle but the cookies spoke for themselves and has people returning every week.
How did you build your audience on social media?
We gained a large percentage of our following in the summer of 2020. In the midst of the Black Lives Matter movement coming to the forefront, a lot of people were seeking out Black-owned businesses to support. Maya's Cookies was included in several lists that went viral and the business took off in ways we had never imagined. As we started to receive this new influx of support, we interacted with people on Instagram and Facebook as much as we could, thanking them and letting them know how impactful their support was to our small business.
I also collaborated with brands that were larger than mine to gain brand awareness. I sought out companies that had similar values or demographics (vegan, Black-owned, mostly female audience) and asked to host joint giveaways or work together on a collab product. Even if they weren't interested in working together in that way, I would often send them cookies in hopes that they would share photos or a review on their Instagram stories.
Contact Info:
Image Credits
Kinda Arzon Annie Denten
Read more at: https://canvasrebel.com/meet-maya-madsen/