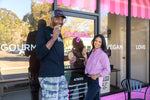 San Diego, CA, (February 2, 2022)  — Maya's Cookies, America's #1 Black-Owned Gourmet Vegan Cookie Company is pleased to announce that the multi-talented NBA star and innovative businessman, John Salley, has joined the company in an advisory role.
John Salley gained respect and recognition as a standout NBA player winning four championships with three different teams including his contribution to the historic Bulls 1996 championship team.  Since his retirement from the NBA in 2000, Salley has enjoyed success in the Entertainment business as a television personality, including spending 7 years as the co-host of the Emmy nominated, critically acclaimed The Best Damn Sports Show Period on Fox Sports Net, and a film actor, including a prominent role in an upcoming Disney film.
Beyond sports and entertainment, John is a vegan and wellness advocate and was recently awarded PETA's highest honor at its 40th Anniversary Gala. John was an early investor in Beyond Meat, Inc. (NASDAQ: BYND) and previously the Vice President of Business Development of TIDL Sport, a line of CBD-enhanced products designed for recovery in athletics. 
"I first became aware of Maya's Cookies because of PETA, I loved that her mission was to show that a plant-based diet does NOT have to be boring! I love innovators and I love working with winners, but what really blew me away was her work ethic, her commitment to giving back to the community, and her drive for excellence in her craft," John Salley stated, "I'm thrilled to be a part of this team. Can't wait to see what's possible together."
Founder and Owner, Maya Madsen agrees, "When we first started talking to John, I knew he was the right partner. His forward-thinking vision, deep connections, incredible charisma and business-savvy will surely help drive the next phase for Maya's Cookies."
John will be an integral part of the growth strategy for Maya's Cookies and will advise in the areas of investment, location strategy, channel distribution, and growing brand awareness in new markets.
About Maya's Cookies
Founded in 2015 by Maya Madsen, Maya's Cookies is America's #1 Black-Owned Gourmet Vegan Cookie Company. As a vegan with a sweet tooth, she had not been able to find that perfectly delicious, soft-baked gourmet vegan cookie, so she spent years crafting her award-winning and crowd-pleasing recipes. From the classic to unique and forward-thinking flavors such as "Chocolate Chip S'mores" and "Marble Fudge", every flavor has a story grounded in Maya's travels, memories, and experiences. Alongside providing the highest quality product that appeals to everyone, Maya's Cookies is committed to superior customer service and community engagement, with a focus on youth and underserved communities. Maya's Cookies ships nationwide- simply order as a treat for yourself or as a gift. https://www.mayascookies.com
PRESS CONTACT:
Candace Brenner
760-500-7937