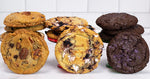 The vegan cookie shop's new collection is available now until February 28.
San Diego-based and Black-owned Maya's Cookies has just dropped their new Black History Month Collection, paying tribute to Black changemakers, business owners, and activists.
Maya's Cookie's Vegan Black History Collection
The Black History Collection from Maya's Cookies contains three vegan cookies. Aside from the three cookies honoring legendary Black icons, they are also made with ingredients sourced from Black-owned businesses.
The Superhero is an ode to Chadwick Boseman and Black Panther, honoring the cultural impact they had together. The chocolate cookie is made with 72% Extra Dark chocolate chunks from Kanda Chocolates, a Black- and woman-owned company that sources its chocolate directly from Ghana. The cookie is finished off with a silver and purple dusting of edible glitter.
The First Lady cookie is inspired by Michelle Obama and her mother, Marian, and is an ode to resilient Black women and the women who raise them. This cookie features marionberries soaked in a cabernet sauvignon from a Black-owned vegan winery. The resulting compote is swirled into a sugar cookie base with white chocolate and lemon.
Finally, the Uncle Nearest cookie honors Nearest Green, the first-known African-American master distiller. This brown sugar cookie is filled with candied pecans made with Uncle Nearest whiskey, caramel chips, and chocolate chips.
Vegan Cookies That Ship Nationwide
The Black History Month Collection from Maya's Cookies is available for nationwide shipping on their online shop until February 28. The full collection comes with two of each cookie for $35. Single cookies are available at their San Diego storefront while supplies last. The shop is located at 4760 Mission Gorge Place, Suite G, San Diego, CA 92120. Shop hours are 11am-4pm Wednesday through Friday and 10am-4pm on Saturday and Sunday.
If you're still looking for the perfect Valentine's Day gift for someone in your life, check out Maya's Cookies' Valentine's Day collection. And if you're looking to send these collections as a gift, Maya's Cookies has gift box options available on the website.
Visit MayasCookies.com to browse the full menu and place your orders.
Read the full article here