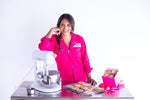 Tune in to Episode 211 of the Happy Half Hour podcast
Welcome back to the Happy Half Hour! We're excited to have Maya Madsen, the founder of Maya's Cookies, on the show this week. Maya's Cookies is a line of soft-baked cookies that are completely vegan but also popular with non-vegans. Maya founded the company in 2015 when she couldn't find any vegan cookies that she liked, so she started baking her own. Today, her company is the No. 1 Black-owned gourmet vegan cookie company in the country. The cookies are available online and ship nationally, and she opened her first retail store location last fall in Grantville. 
Maya's journey to success has been a long one. She shared with us that her entrepreneurial spirit, drive, and dedication to fitness and a vegan lifestyle are rooted in her childhood. She was raised in foster care in Northern California, and grew up food insecure—as a child she cooked for herself, often having to figure things out on her own. And when she grew up, her birth parents passed away and she learned that they had both suffered from health problems. Maya says this sparked her passion to take control of her health, and she jokes that she became a vegan "by accident"—she focused on eating clean, and eliminating meat and dairy just came naturally. She started her career in the fitness industry, teaching aerobics in the late '80s and early '90s, then Jazzercise, spin classes, and personal training.  
Maya says she has a sweet tooth and that cookies have been one of her favorite indulgences, but for years she couldn't find any vegan cookies that did the trick. In 2015 she started making her own, and soon she was baking by the dozen for her friends and clients. Non-vegans also praised the cookies, and the hobby turned into a business as she started selling them at the Little Italy and Pacific Beach farmers' markets. Since both markets attract a large number of tourists, out-of-town visitors often asked if they could buy her cookies online, so she set up an online shop.
In 2020, Maya saw her business shrink at the beginning of the pandemic—then in the summer, the nationwide movement to support Black-owned businesses gave her a boost and national exposure, and she was caught off-guard by the outpouring of support. She says they would get maybe 20 online orders a day at first—then after June 2, 2020, that number shot up to 600, and kept increasing to as high as 3,000 orders a day. At one point, Maya had 10,000 orders waiting in the queue, and she didn't have enough boxes to package and ship them, nor a big enough space to make all the cookies, which are scooped by hand. 
But she was determined to do it, and she did, calling on support from staff, family, and friends. Listen in to find out more about how Maya successfully fulfilled all those orders, how she expanded the business, and what drives her as a business owner.