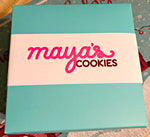 I have a confession to make – I cannot bake to save my life. Seriously. Even those pre-made cookies where all you need to do is put them on a cookie sheet and bake them, I tend to mess up (even when I follow the directions to a "T"). Sigh…
I love freshly made cookies, most especially homemade ones. My sister bakes THE BEST chocolate chip cookies I have ever tasted. I loved nothing more than indulging in her cookies fresh out of the oven. Yum! I miss those days.
Normally the cookies my family and I eat come from a box or are mass produced (brand name ones found in grocery stores). I'm NOT saying that those types of cookies are not delicious (my are!), but they can't compare to freshly made ones.
Once in a while I'll pick up some cookies at the local bakery, but the bakery is not close by, so I only go on special occasions or if I happen to be in the area.
Cookies make great gifts. Trust me, if my co-worker gifted me a box of her homemade cookies, I would be thrilled.
A brand called Maya's has a wonderful gift idea – a Cookie Love Subscription Club.
Each month the Cookie Love Club Box will contain:
6 Cookies Total: 

• 4 – 3 oz. cookies will be a hand-picked mix of our favorite seasonal flavors

• 2 – 3 oz. cookies will be exclusive flavors only available to Cookie Love Club members!

BONUS GIFTS! In addition to the cookies, you will also receive a piece of Maya's Cookies merch! Limited edition stickers, pins, super cute patches and more.

Each cookie is individually wrapped.

If anyone is feeling generous, feel free to subscribe to the club for me. LOL!

Maya's Cookies was kind enough to send me several (yes, several) of their cookies.

OH.MY.GOODNESS!

To say these cookies are delicious is an understatement. These cookies taste A-M-A-Z-I-N-G!
I was sent the following cookies (their "Sampler Collection").
Chocolate Chip S'mores
Classic Chocolate Chip
Birthday Cake
Marble Fudge
Funfetti
Snickerdoodle
First and foremost, these cookies are HUGE. I was surprised at how big they are. You could easily share this cookie with another person (not that anyone wants to share cookies – ha ha).
I'm a big "meanie" because when my kids asked to eat the cookies, I told them they could have a "sample" because "I" needed to review them. I shared… but most of the cookies were for me.
What I love about these cookies is that they taste freshly made. They do not taste like mass produced cookies. These taste just like grandma (or my sister) would make. I should have warmed up the classic chocolate chip cookie. I bet it would have tasted just like the ones my sister makes. Mmmm!
Read the original blog post here