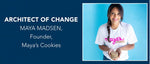 Maya Madsen: Maya's Cookies
By Annya Apodaca '22, Priscila Cano '23, Abby Cota '22, Valentina Gutierrez '22, and Valentina Parra '23
Are you looking for the perfect holiday gift this season? Maya Madsen's delightfully delicious cookies are the sweetest choice. "Cookies make people happy," Maya says with a warm smile, explaining her journey to getting her company, Maya's Cookies, to its current success. Through the trials and tribulations of being a Black woman with a small business and opening her first store during a pandemic, Maya talks about accomplishing her dreams through her favorite phrase, "putting her big girl pants on and getting it done." 
As ironic as it may seem, Maya Madsen began her career as a fitness instructor, passionate about teaching others about improving their health. About fifteen years ago, she decided to start a plant-based and vegan diet. However, after realizing the lack of vegan treats for sale, she set on an innovative venture: creating Maya's Cookies. She started by providing these comforting delicacies to her family, fitness clients, and her close community. As a proud mother of three boys, Maya's Cookies served as a way to support their college education, and thus she began expanding her business. The support she gained was unimaginable, as the cookies' heavenly taste immediately captivated the sweet tooth of many. Her business, which began at her local Farmers' Market, skyrocketed into a national sensation. She quickly gained a loyal following that supported her through thick and thin as her company rapidly continued to grow.
The Black Lives Matter movement's surge incited a sudden spike in sales as people rushed to support Black-owned businesses in solidarity. Maya went from having twenty to fifty orders a day to producing over ten thousand cookies over the course of a week. Although her business greatly escalated in sales, as she had hoped for many years, many struggles also arose with this abrupt growth. She did not have enough staff and room in her kitchen to complete all of these orders. This sequence of events afflicted Maya, but with a firm faith and trust in God, she knew that everything would turn out the way it needed to. Despite the overwhelming influx of orders and the obstacles in between, Maya and her team were able to fulfill every order. They produced exquisite confections that above all else left their customers with full hearts and stomachs. 
Maya places an emphasis on supporting charities, especially Detour Fancy which helps young Black girls locally, mentoring them and ensuring that they receive a quality education and opportunities for their future. Maya looks at the future brightly, hoping to continue spreading happiness through her confections. A true Architect of Change, Maya Madsen demonstrates what it means to change the world one cookie at a time. We encourage our OLP family and friends to choose Maya's Cookies this year for a COVID-19 safe and delectable way to send Christmas cheer, after all shipping cookies across the country is Maya's specialty!