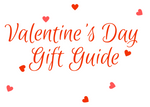 Valentine's Day is coming up soon. Are you planning to get anyone something this Valentine's Day? If you're having trouble finding something for someone, I have come up with a list of items that would be great for gifting for Valentine's Day. I've got all the items listed below. I hope that this is helpful to you and that you're able to find something special from the list.
This collection includes six of the most luxurious flavor to date: Double Chocolate Cherry Truffle. This indulgent cookie begins with chunks of both gourmet white chocolate and dark chocolate chunks mixed into rich chocolate dough and bursting with cherries soaked in Grand Marnier. These Double Chocolate Cherry Truffle cookies are a one-of-a-kind cookie tasting experience!
Cookies make an amazing gift. A box full of some delicious cookies is just what that special someone may love for Valentine's Day. I love that these cookies are inside a tin. It makes them even more special. They decorated it so beautifully to. This will really make someone's day and I'm sure they'll feel loved and appreciated when they see this. If you know anyone who loves chocolate cookies, then this is the gift for them. They're amazing!
Learn more about Maya's Cookies.