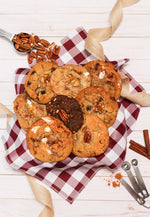 Between the lentil loaf centerpiece, table setting, and endless savory sides, there's precious little time for dessert. Thankfully, these bakeries have your vegan Thanksgiving sweets covered.  
NOVEMBER 17, 2021
---
Dessert should never be an afterthought, but there is no shame in outsourcing this final course on Thanksgiving. Whether you're tasked with bringing dessert to a Friendsgiving or preparing to host the entire Thanksgiving fête yourself, having a vegan pie or plant-based sweet treat ready-to-go will greatly reduce your day-of stress, clear room in the oven, and decrease the chances of something going wrong (even the best bakers burn cookies from time to time, and there's always the off chance of a pumpkin pie not quite setting). From thick and gooey plant-based pecan pie to an impressive piecaken, consider these shippable, delectable desserts as sweet back-up for a flawless vegan Thanksgiving feast.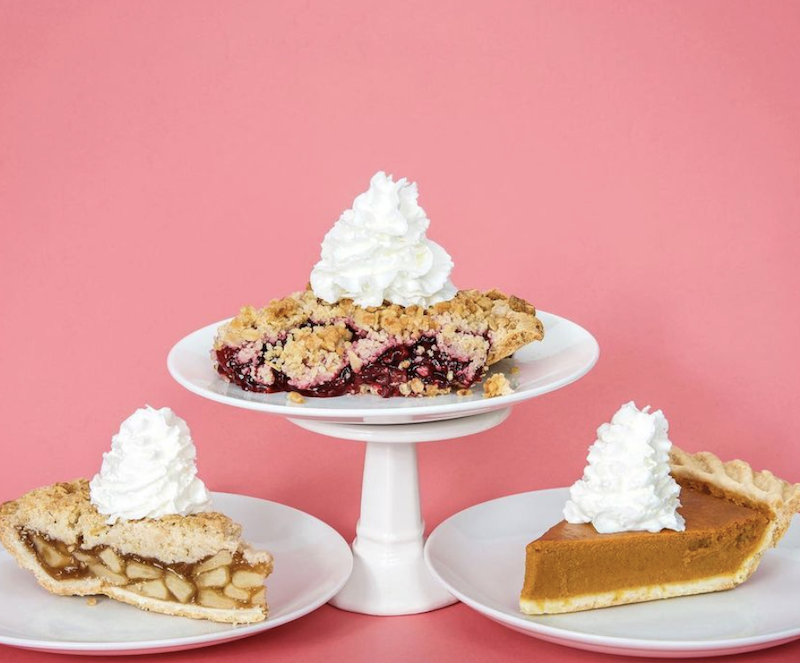 Giselle's Vegan Kitchen
1. Giselle's Vegan Kitchen
Let's give thanks to an exceptional allergen-friendly bakery that opened and survived the pandemic. This storybook-themed, adorably pink Orange County, CA bakery took the leap at a brick-and-mortar in September 2020, and it's now shipping delectable pies and other delightful treats nationwide. We simply cannot choose between the Apple Crumble, pumpkin, or pecan pie. 
ORDER HERE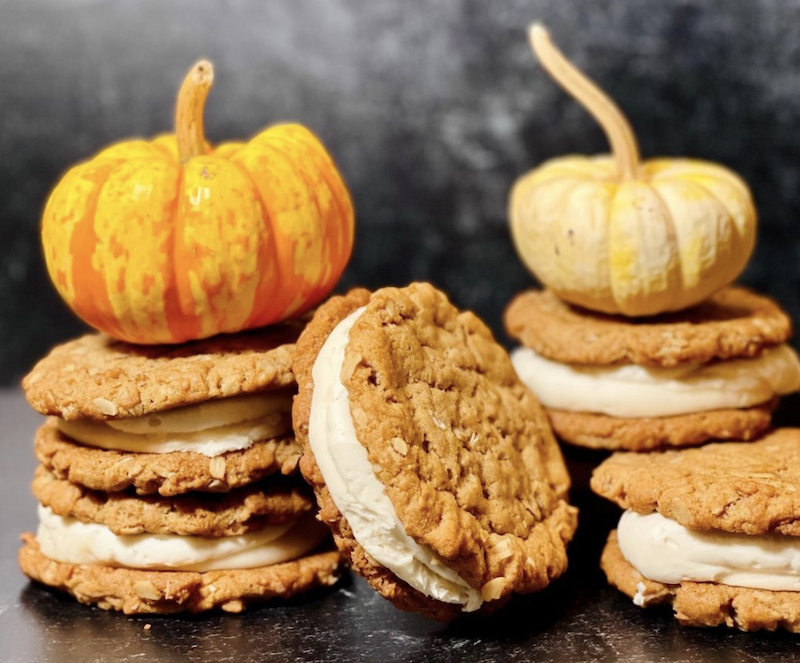 Sticky Fingers Bakery
2. Sticky Fingers Bakery
Cupcakes, brownies, and frosting-filled sandwiches—you can have it all when you order from this Cupcake Wars champion baker. We love the idea of ending the Thanksgiving meal with a bit of a DIY dessert. Baker Doran Petersan's decorating kits encourage consumers to frost their own brownies, cupcakes, and cookies with her finger-licking-good peanut butter, mint, or vanilla buttercreams. Rather not get too involved? The DC bakery's November box includes Oatmeal Maple Sandwich Cookies, Pumpkin Fudge Brownies, and plenty of other goodies—a perfect autumnal finish to a hearty meal.
ORDER HERE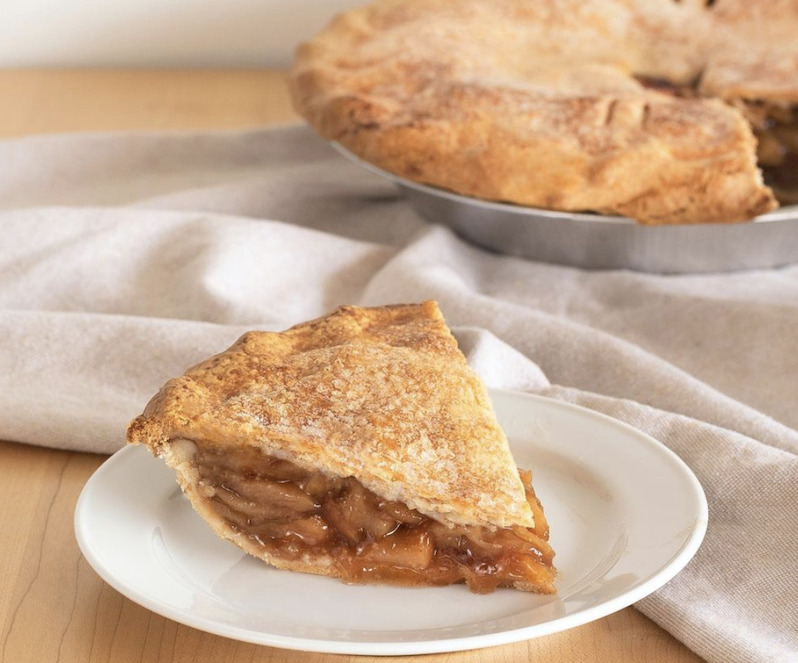 Achatz Handmade Pie Co.
3. Achatz Handmade Pie Co. 
This vegan-friendly pie shop nails the classics. The five vegan options—Northern Spy Apple Pie, cherry, blueberry, strawberry rhubarb, and Michigan 4-Berry—all feature a buttery and flaky double crust and a generous amount of sweet fruit filling. They're incredible on their own and only improve with a mound of vegan vanilla ice cream. 
ORDER HERE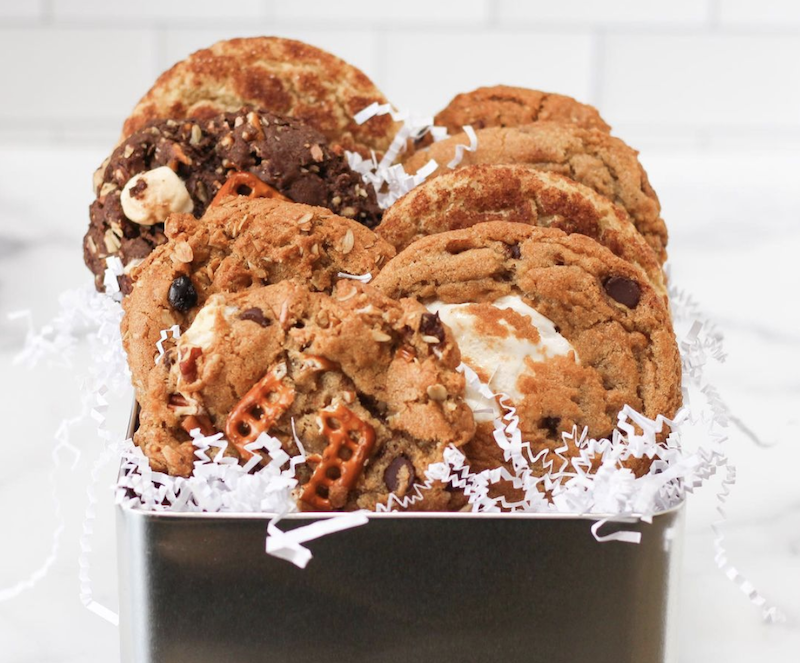 Maya's Cookies
4. Maya's Cookies
Expecting a crowd this Thanksgiving? Give them cookies. While not a traditional Thanksgiving dessert, cookies are arguably the most shareable sweet out there. Maya's Southern Holiday Collection features classic fall ingredients such as toasty pecans, warming cinnamon, and cheery booze incorporated into sizable, three-ounce cookies. This isn't your typical pumpkin cookie spread—the assorted flavors are far more interesting—Caramel Pecan, Peach Cobbler, and Kentucky Bourbon Chocolate Chip offer just a taste of this cozy collection.
ORDER HERE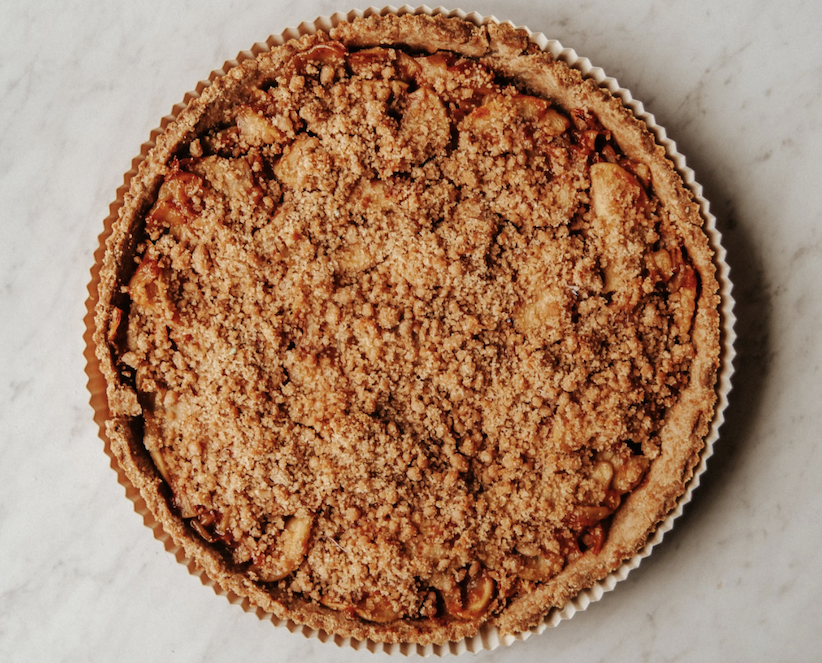 Sweet Laurel Bakery
5. Sweet Laurel Bakery 
No matter what our dietary preferences or allergen restrictions are, we can all come together over this paleo, vegan, and gluten-free apple crumb pie. While a lot is left out ingredient-wise, the bakers at Sweet Laurel have kept the flavor in. The only fighting going on at the table will be over who gets the last slice. 
ORDER HERE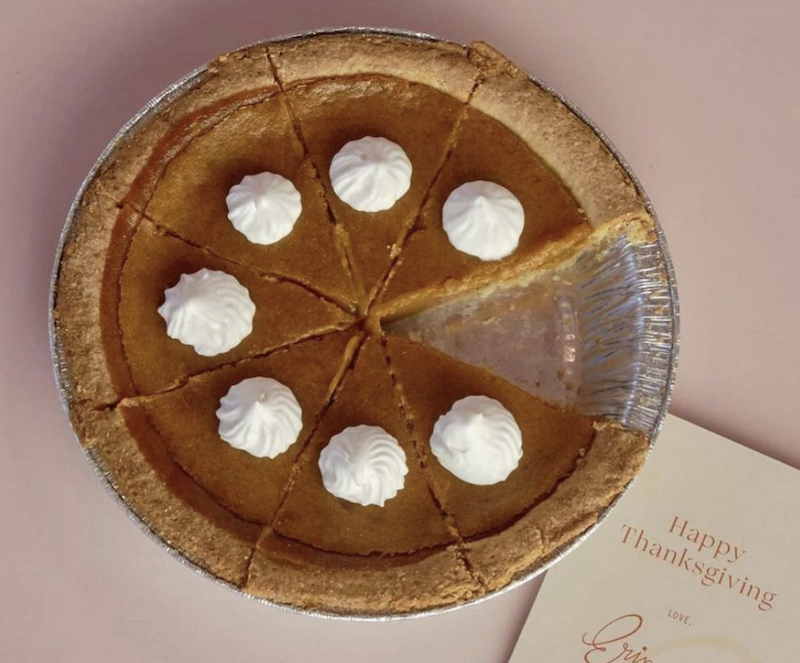 Erin McKenna's Bakery
6. Erin McKenna's Bakery
Need a pie for the allergen-averse? The queen of allergen-friendly baked goods (seriously, she launched in 2005) is shipping her holiday pies across the United States. Both the pumpkin and Dutch apple are vegan, gluten-free, and soy-free. You can't taste it, though—we can tolerate gluten just fine and will go out of our way just for a slice of Erin McKenna's mouthwatering pies. For the cake aficionados, drop a Pumpkin Crumb Cake in your virtual cart so every guest is satisfied.
ORDER HERE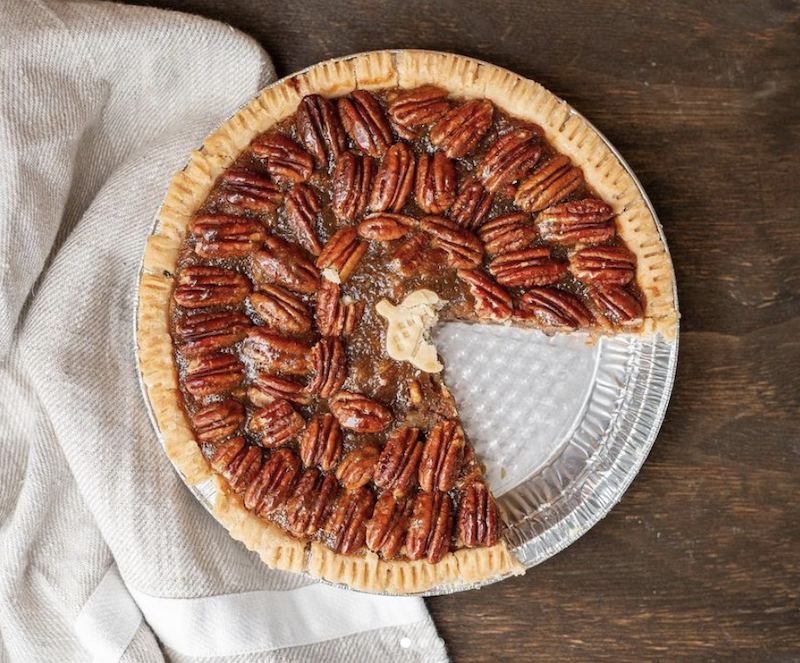 Karma Baker
7. Karma Baker
Home of the legendary vegan PieCake, this dedicated gluten-free and vegan bakery places an emphasis on equally delicious and show-stopping desserts. Introduced in 2020, the towering PieCake consists of a pecan pie, pumpkin pie, and apple spice cake plastered together with luscious cinnamon buttercream frosting. Apple crumb, chocolate pecan, pumpkin, and pecan pies are also available for nationwide shipping for the traditional types who prefer their pies to "not touch." 
ORDER HERE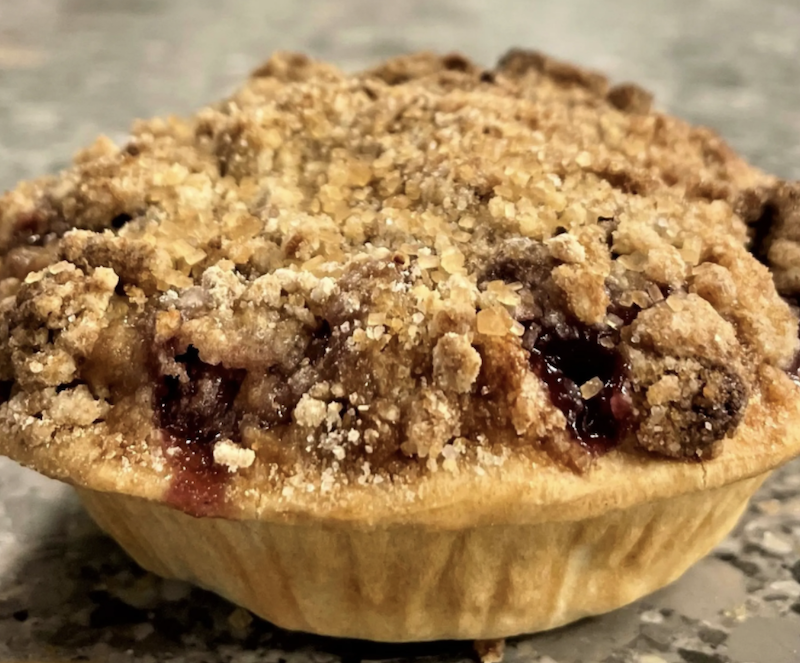 Bourke Street Bakery
8. Bourke Street Bakery
Cutting into a pie is never a clean affair. Even if you cut the first slice perfectly, the dessert is bound to disintegrate into a mess of fruit and crumbs six slices in. The solution: everyone gets their own (mini) pie. Each pack of Bourke Street Bakery's Vegan Apple Berry Crumble pies comes with 12 well-portioned pie tins, allowing each guest to feel special and sidestepping the woes of splitting a full-sized pie. 
ORDER HERE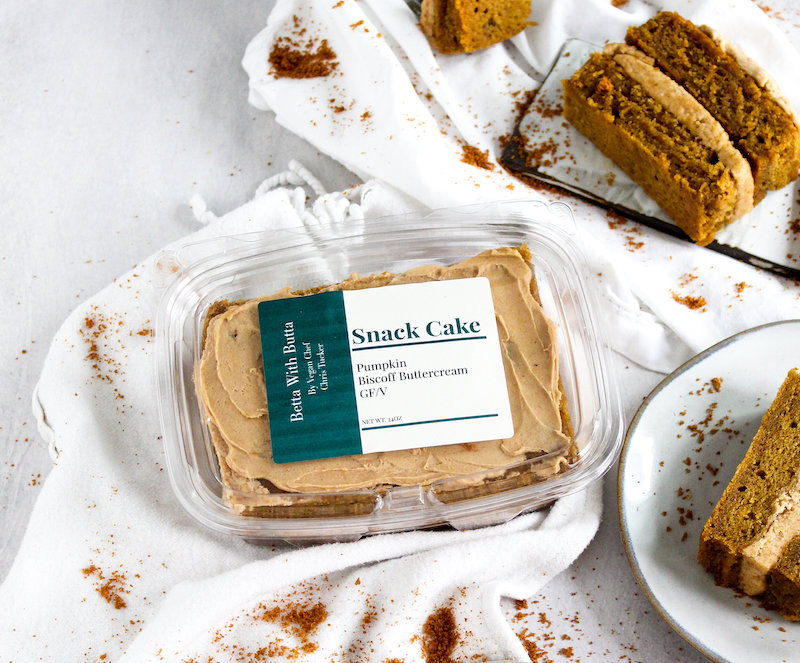 Chris Tucker
9. Betta with Butta
Slow your roll—we're talking betta with vegan butta. Chris Tucker launched this direct-to-consumer, vegan-friendly business after appearing on ABC's baking hit, The Great American Baking Show. His fall-themed offering is perfect for a gathering of two to four people or for the solo vegan packing themselves something sweet at an omnivorous feast. The surprisingly moist, gluten-free Pumpkin Spice Snack Cake combines the season's obsession with everything pumpkin in double-layer cake form sandwiched together with velvety Biscoff buttercream. Pie, step aside, and let them eat (pumpkin) cake. 
ORDER HERE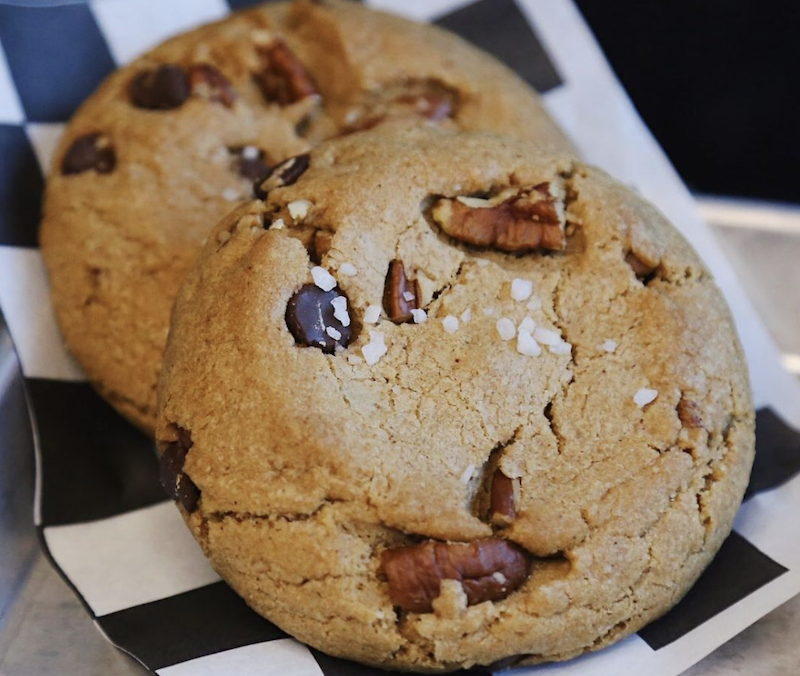 Foxship Bakery
10. Foxship Bakery
Weighing in at a full quarter pound, these cookies are a meal in themselves. You may have to play a round of touch football after dinner to make room for these thick Vegan Apple Crisp and Pumpkin Chocolate Chip hockey-puck-sized cookies, but they're well worth the wait. Pro tip: serve warm from the oven with a scoop of vegan vanilla ice cream. Can't finish it all? The leftovers freeze beautifully. 
ORDER HERE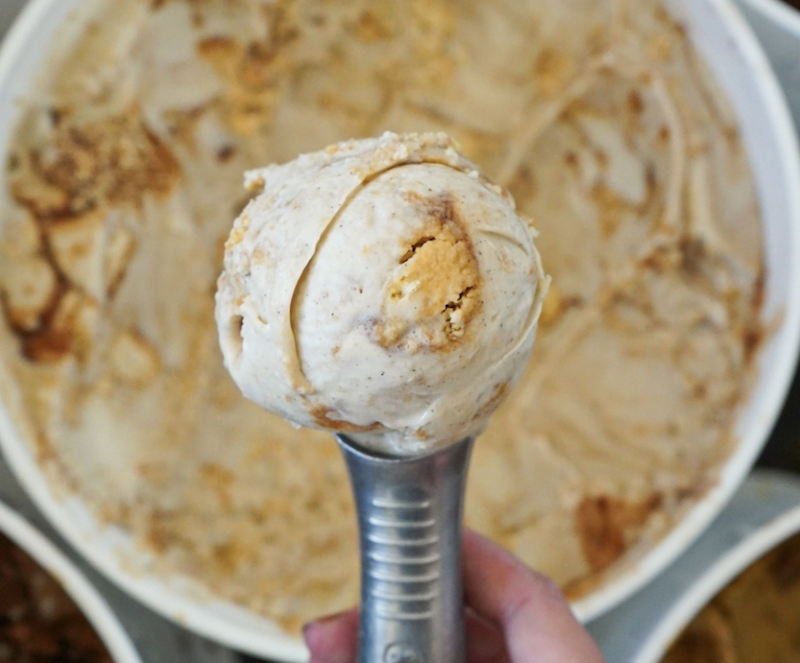 Frankie & Joe's
11. Frankie & Joe's Ice Cream
Even if you're adamant about having pie on Thanksgiving, every pie could use a scoop of decadent vegan ice cream riding shotgun. This vegan, woman-owned scoop shop in Seattle has created a medley of inventive, fall-themed flavors that would perfectly accompany a thick slice of apple pie (or be suitable by themselves). Stock your virtual cart with a pint each of California Cabin, All the Squash, and Cardamom Pear Pie. 
ORDER HERE