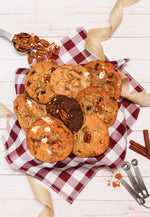 MAYA'S COOKIES SOUTHERN HOLIDAY COLLECTION
Where some of the best sweets from around the world have the power to transport you to a different place, others touch your heart by reminding you of a different time.
Take this great gourmet food gift from Maya's Cookies, a black-owned, vegan-friendly cookie company based in San Diego that we discovered while researching the 2020 edition of this guide.
As a native of North Georgia, one bite of the fresh-baked delights from her new 8-cookie Southern Holiday Collection took me back to the childhood Christmas tradition of making cookies with my mom.
There's no comparison to the richly decadent flavors of Maya's massive Southern-style cookies, which include Peach Cobbler (with brandy-soaked peaches, white chocolate, and cinnamon), Hummingbird (with pineapple, banana, cinnamon, and pecans), Caramel Pecan, and Chocolate Caramel Pecan.
But our new favorite cookie is Maya's Kentucky Bourbon Chocolate Chip, which is infused with just the perfect amount of Kentucky Bourbon and stuffed with walnuts. You'll wish there were more than two in the tin!
The full list is available here