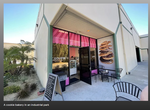 Did you know San Diego is home to "America's #1 black-owned gourmet vegan cookie company?" I did not, until I found the website for Maya's Cookies, a cookie bakery operating out of an industrial park in a tucked away corner of Grantville. Obviously, a lot of qualifiers involved to make that claim, but the most important thing is there are excellent cookies to be found at the end of it.
Place
4760 Mission Gorge Pl, San Diego
Maya's didn't get to be number one on San Diego cookie appetites alone. The business sells cookies through local coffee shops and farmers markets, yes, but it also ships online orders to customers across the country. And, according to a blog post by founder and namesake, Maya Madsen, the small cookie business received a stunning ten thousand orders in June of last year as Americans (and American media outlets) got serious about bolstering black-owned businesses in the pursuit of equity and social justice. Which means, this cookie business may now be better known outside its hometown than within.
That said, Maya's does maintain a small counter-shop to serve locals in search of large, chewy, plant-based cookies. Provided you can find it. Not visible from any named road, the storefront sits in the corner suite of an industrial park several blocks east of Mission Gorge Road.
As I poked around an area of beige, blocky buildings in search of the cookie shop, I started to suspect I must be driving past it, that it was just another bland, colorless business, blending in with the rest. But then I turned up the correct driveway — which also leads to the local post office — and found a bright splash of pink storefront, with a large photo of cookies in the window.
There's not much to the place — a glass counter full of cookies and a handful of tables on the sidewalk out front. But I did find a short line of customers, both when I showed up and when I left, all here for assorted three-ounce cookies, priced at $3.75 apiece.
Online customers may choose from some 20 or so different cookie flavors, including a few that are wheat-free, in addition to being vegan. At the shop, about half of them are available, depending which were baked that day. In addition to standards such as chocolate chip, snickerdoodle, and white chocolate macadamia nut, Maya's offers a few innovative flavors, including marble fudge, chai snickerdoodle (with white chocolate chip), drunken grandma (oatmeal with rum-soaked raisins), and caramel pecan.
Given the season, I tried out a couple of seasonally appropriate flavors, including pumpkin spice chocolate chip (delicious) and "vanilla boo thang," sort of a vanilla infused snickerdoodle with Halloween sprinkles.
My favorites included a very coffee flavored espresso cookie with white chocolate chips, and the chocolate chip s'mores, which features a puddle of marshmallow in its center. I will have to return in search of the "famous everything cookie," which features marshmallow and chocolate chips, along with pretzels, oatmeal, pecans, and butterscotch chips!
Big, soft, and chewy, these cookies have so much going on, a casual snacker would never suspect they were made without the benefit of eggs and dairy. In fact, I picked up a large pink box of cookies and shared them with the kids in my life, and they had zero idea they were eating a plant-based dessert. They just knew they wanted more.