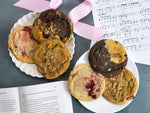 January 24, 2023
by: Allison van Tilborgh
Enjoy this tasty tribute to Black and female excellence.
This Black History Month, Maya's Cookies is unveiling a special collection of three cookies inspired by the legacy of Black women in the arts. From champagne to smoked peach jam to red velvet marbled cookies, this range includes a variety of flavors and will be sold both online (beginning today, January 24) and in-store (beginning February 1).
Hey there cookie lovers! Are you ready for the most delicious and meaningful treat of the year? Check out Maya's Cookies' 2023 Black History Month Collection! This year, Maya's Cookies is paying homage to the arts and honoring the incredible contributions of Black women in literary arts, dance, the music industry, and beyond. Each cookie tells the stories of these changemakers and features ingredients from fellow Black-owned, woman-owned small businesses that we all love.
The Prodigy
Indulge in The Prodigy, a graceful cookie inspired by Misty Copeland, her mentor Raven Wilkinson, and all the trailblazing Black women making history in ballet and the dance arts. This one sparkles with flavors of bubbly champagne, fresh strawberries, and dazzling sparkle sugar. And the best part? The Prodigy features Sparkling Rosé from the Black-owned, woman-owned brand Stuyvesant Champagne.
The Chart-Topper
Enjoy a tribute to the Godmother of Soul, Patti Labelle, and her famous pies and cobblers with The Chart-Topper. This treat turns up the volume with a harmony of low-sugar Smoked Peach Jam, real peach pieces, and a cinnamon brown sugar crumble. The Smoked Peach Jam is sourced from Black-owned, Brooklyn-based Trade Street Jam Co.
The Best Seller
Last but not least, be sure to try The Best Seller, inspired by the novel The Vanishing Half, which marbles three unique flavors: Red Velvet, Brown Sugar Chocolate Chunk, and Salted Caramel Fudge. The chocolate is sourced from Kanda Chocolates, a Black-owned, woman-owned company in Ghana.
The 2023 Black History Month Collection will launch today on MayasCookies.com and at Maya's Cookies' storefronts in San Diego February 1. Make sure to mark your calendars and follow @mayascookiessandiego to learn more about Maya's Cookies and their mission to celebrate Black, female excellence.
See the original article: https://vegoutmag.com/news/mayas-cookies-black-history-month-collection/