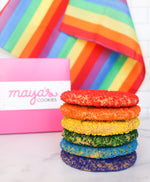 10 Sustainable Pride Gifts That Give Back
This month, we're celebrating brands that are giving back to the LGBTQ+ community!
With so many rainbows on products this month, how do you know which brands are theming it up to help the LGBTQIA community and which are just benefiting their own bottom line? We've got you, friend. Here are 10 sustainable pride gifts that are giving back.
Our Place
Full of Pride Mugs are fighting food insecurity in a big way! Sip your morning joe knowing that a portion of your purchase is going to alleviate hunger in the LGBTQ+ community by being donated to the Los Angeles LGBT Center's Pride Pantry. Pick up one for you and one for a friend.
HuBee
Check out this little cutie! LA-based HuBee is donating 100% of sales from their Beehive Mini Ice Tray 2-Pack to LGBTQ+ causes such as The LA LGBT Center, The Trevor Project, SAGE, select college LGBTQ centers, and more. Not only that, but they're offering the set at half price through the end of July!
Modern Picnic
Support the LGBTQ+ community with your purchase of The Pride Luncher from Modern Picnic. A portion of sales from the Pride collection goes to The Trevor Project, a suicide prevention organization for LGBTQ youth.
Conscious Step
Another brand giving back to The Trevor Project is one of our favorite sock brands—Conscious Step. The rainbows-on-grey Socks That Save LGBTQ Lives are made from fair trade organic cotton and recycled polyester. And everybody needs socks, right?
Maya's Cookies
Celebrate the month with cookies! A portion of sales from this colorful sugar cookie collection goes to supporting The Center in San Diego. The Center facilitates the health and wellness as well as the human rights of the area's LGBTQ community. Maya's Cookies' Pride Collection for the win!
REEF
Partnering with queer artists, REEF offers a collection of four beach towel designs for Pride 2022. One hundred percent of proceeds from the sale of The Beach Loves All Towel will be donated to PFLAG, one of the largest organizations for families, friends, and allies of the LGBTQ+ community.
LUSH
If you're in Florida, get into a LUSH store and grab one of these Gay Is Ok glittery bar soaps! A portion of sales from the soap goes to the legal defense fund for Equality Florida to help fight the "Don't Say Gay" legislation. Note that the bars are sold out online and only available in-store while supplies last.
Cole Haan
The Generation ZEROGRAND II from Cole Haan's Pride Collection is one of five designs for 2022. A portion of sales from the shoes goes to support The Trevor Project, a leading LGBTQ suicide prevention organization. The Pride designs are available through June 30.
Pride Candle Co.
At Pride Candle Co., giving back is just a way of doing business. The brand regularly donates 10% of proceeds from the sales of their candles to rotating organizations. Want to try an assortment of scents? We recommend the Love is Love Collection.
MeUndies
This LA-based brand is donating $10,000 this month to the Los Angeles LGBT Center. In addition, they're giving $115,000 worth of MeUndies to the site's Trans Wellness Center. Pride undies for the win!
Read More at VegOut: https://vegoutmag.com/shopping/sustainable-pride-gifts-that-give-back/