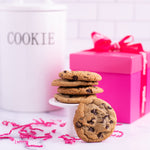 One of the most romantic days of the year is upon us. From deliveries of long-stemmed roses, cards expressing all of our deepest feelings and long gazes over romantic dinners out at our favorite local restaurants, Valentine's Day is one we are all so familiar with. A part of our childhood from when our parents sent us to school with Valentine's Day cards adorned with our favorite tv characters and the names of everyone in our class, we all know February 14th.
So while February 14th is deemed a day to pack on the love for our partners… What about our friends? 
Well, before you prepare for Valentine's Day, get in gear for Galentine's Day with your girls!
What is Galentine's Day, you ask? 
Galentine's Day is a day meant to celebrate the love of your besties and close friends – no romance needed! Often celebrated the day before Valentine's Day, the holiday was first recognized on the hit tv show, Parks and Recreation with the iconic celebratory line of, "Ladies celebrating ladies", uttered by comedy genius, Amy Poehler. Long gone are the days when you can only be spoiled by your partner, this special day serves as just one calendar reminder to spread love and friendship in your own ways.
And while all of our gal pals may not be nearby to celebrate Galentine's Day in person, lucky for us, there are some wonderful Black-owned businesses that offer gifts that ship and show to remind your babes that they're your faves. 
Check out the top Black-owned businesses to celebrate Galentine's Day from near or far!
 Location: Atlanta, GA
What they're known for: Farm-to-skin self-care products for your body and face and natural spa treatments at their brick and mortar. Created by late founder, Yolanda Owens, using recipes from her Grandmother. Their motto is, "It is, what it is" 💚
What Yelpers say: "A small and inviting spa. It is definitely a garden spa, felt like I was in the tropics which was very comforting for me. The staff is very friendly and welcoming.  I have had a massage, facial, and mani/pedis here. I love how they treat every customer like family." – Sunny D.
Location: Syracuse, NY
What they're known for: Home brewed tea blends
What Yelpers say: "I have become just so impressed with 210 teas. After trying a few teas during an event, I was convinced that I'd need to order more. I love a nice up of tea in the morning or in the evening before bed. Honestly, I'll drink a cup of tea any time of day. The best teas are those that don't need anything added to enjoy the flavors. This is why I love 210 teas. The teas themselves are amazing and can be enjoyed in the most simple way." – Desiree K. on Yelp
Location: San Diego, CA
What they're known for: Gourmet, vegan cookies in dozens of flavors
What Yelpers say: "I must of been asleep and then I was awoken to delicious cookies.  This is my first time eating vegan cookies !! I got one chocolate chip and one Marble Fudge  and let me tell you vegan what? I could not tell it was yummy!! I also purchased soft serve vanilla alternative ice cream but again not bad at all that wasn't with a small snickerdoodle cookie  and I had sour candies added for my inner child. Everything was delicious and the customer service was friendly and kind." – Shan S.
Location: Solvang, CA
What they're known for: Fine wine and artesian snacks and items
What Yelpers say: "All of the wine we had was incredibly good. The rosé was definitely a standout. Our server told us it's super popular and people will drink bottles of it all day!" – Shana R.
Location: Sacramento, CA
What they're known for: A sustainable plant shop that offers houseplants, plant parenting needs and more 
What Yelpers say: "Picture it. A full year into c*vid – May 2021. Was feeling some type of way, bad. I had spent a year doing my own nails, run thru subscription services, and I  needed something better (more sustainable? more zen?) to spend my money and my time on. I wanted to jump on the plant bandwagon but I've killed every plant I've ever owned. Enter Sac City Stems. NOT your typical plant shop. They spoke my language (plants listed as "I'm easy, baby"). Okay okay, my confidence is building just scrolling thru the site, girlll, I think I can do this?? I see the "very f*ckin chill trio" oh word?? They swear like me! Must be legit. At a very reasonable price the professionals at sac city stems will pick three easy babies and send you on your way with instructions. I ordered for delivery and they were received same day. Mind. Blown. I was a little hesitant from time to time about overwatering or underwatering and sac city stems offered assistance along the way. Talked me thru some sad plant days and offered expert advice when I needed help. A year and a half later I'm a full blown, unabashed, Sac City Stem plant MOM." – Monica T.
Location: Orlando, FL
What they're known for: Delicious popcorn in dozens of different flavors
What Yelpers say: "One of my favorite sweet and salty snacks! Major's organic kettle corn is so addicting and I definitely don't have enough self control to stop myself from eating the entire bag in one sitting (#sorrynotsorry). I just recently tried the limited edition Lemonade flavor and OMG it's so good! I love lemon flavored things and I seriously couldn't get enough. My husband was a bit skeptical of the lemonade flavor at first, but once he tried it, we were fighting over the bag. The best part is that Major's Project Pop ships nationwide! This makes for the perfect gift because who doesn't love food surprises delivered right to their door?! I'll take food presents over any other present any day!" – Anna L.
Location: Toronto, Canada
What they're known for: Engaging instructional art classes, in-person and virtual!
What Yelpers say: "I can't say enough good things about this hidden gem. There are many art studios/paint cafes in the city but this one has the best vibe of any I've seen. Gorgeous exposed brick interior, friendly staff and excellent menu of coffee, custom smoothies and scrumptious baked treats. If you're ever looking for a unique event for a birthday party, team building or friend's night out (with wine!), check this place out for a painting party." – Gita R.
Location: Oklahoma City, OK
What they're known for: Non GMO dairy, gluten and soy-free cookies created with plant-based sweeteners
What Yelpers say: "Good Girl Chocolate is absolutely insane. Naturally sweetened, vegan and paleo-friendly, free of gluten/dairy/soy and made without GMOs, this chocolate is so much better than I could have imagined. It began as an e-commerce business, started by Dr. Tabitha Carr as part of a plan to transform her health and her life. I am so excited to support a Black-owned, woman-owned, Oklahoma-owned business!" – Julie S
Location: Portland, OR
What they're known for: Organic skincare, bodycare and hair care products
What Yelpers say: "I ordered online for pickup. I made an appt online and came by. That day, the owner was there. She was so sweet — she let me take a peek inside. Super cute spot with parking outside. She mentioned they have weekend private shopping for up to 5 people in your group. I can't wait to book and come by on a Saturday! She hosts a pop-up with other Black-owned businesses that don't have store fronts. As for the Valentine's rose love box – body butter, massage oil, foot soak and body scrub in rose scent. The packaging is adorable as heck and omg they smell amazing. I can't wait to have my rose pampering day tomorrow." – Dina E.
Read the full article here: https://blog.yelp.com/community/top-black-owned-businesses-to-celebrate-galentines-day/