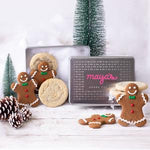 MAYA'S COOKIES DELUXE HOLIDAY TIN & ULTIMATE COOKIE LOVERS COLLECTION
Where some of the best sweets from around the world have the power to transport you to a different place, others touch your heart by reminding you of a different time.
Take these two great gourmet food gifts from Maya's Cookies, the black-owned, vegan-friendly cookie company based in San Diego.
One bite of the fresh-baked cookies from her Deluxe Holiday Tin took me back to making Christmas cookies with my mom. But there's no comparison to the decadent flavors of Maya's Classic Gingerbread, Chocolate Peppermint S'mores, and White Chocolate Cranberry (one of the best cookies I've tasted).
After the Holidays, try their Ultimate Cookie Lovers Colection, which includes White Chocolate Macadamia, Brown Sugar Butterscotch, Espresso White Chocolate, and more!
Read the full article here