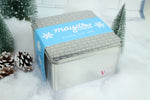 So you would not believe how much you can really simplify your holiday with the help of Maya's Cookies. It's true! Totally not doing a lie. Image for a moment not rushing around this holiday season looking for the latest and greatest gift? Not drinking coffee all night wrapping gifts that will be used maybe twice. Not having to deal with exchanges, ugh. That is the worst! Why not make things simple this year and give the perfect gift of cookies!
I bet you there is that one person is totally agreeing with me right now, heck I would bet all of you are! This Holiday, Maya has put together a beautiful Holiday Tin with delicious seasonal flavors. See them here. 
I can't get over just how yummy and simple this holiday season could be. Not only are Maya's cookies out of this world good but they come in a cute tin ready to be gifted. NO WRAPPING!
Not only can this tin be used for other things after the amazing cookies are gone but the tin itself is beautiful. Maybe just add a bow but that is not needed. The cookies will speak for themselves.
When it comes to cookies, I am a huge sugar cookie snob! I will totally admit it. But the Maya's Sparkle Sugar Cookies, man. I can't get much better. They are chewy, sweet, and baked to perfection. Not to mention, HUGE in size.
Also included in the tin was the gingerbread, white chocolate cranberry (so good you will slap your grandmother for not making them), and the Chocolate Peppermint S'mores.
Each is individually wrapped, so everyone can take their time eating them up.
I do hope that you check out the amazing and delightful Maya's Cookies and help not only share the love, but save yourself from the normal holiday season.