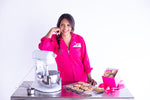 Maya Madsen
Founder and Owner, Maya's Cookies
Maya's Cookies is celebrating five years in business. The vegan cookie bakery has had a banner year, surpassing 20,000 online sales and earning the title of Best Black-Owned Bakery by Black San Diego Magazine. 
Owner and Scripps Ranch resident Maya Madsen is a testament to the power of resilience. Having struggled with a difficult upbringing as a foster child, she leaned into the love and guidance of her Catholic school community. When she met her husband and they started a family, healthy living was a top priority as she worked to stay focused and positive. She became a fitness model and trainer, adopting a vegan diet to complement her health journey. But she couldn't find gourmet vegan treats to satisfy her sweet tooth. 
Over the years, Madsen developed recipes that became favorites at neighborhood and school functions. When her two eldest sons started college, she was ready to launch the business as she needed extra income to supplement work as a spin instructor. 
"It was an unusual transition to go from being a fitness instructor to a cookie baker," says Madsen, "but my love for healthy living never changed and baking vegan goods helped me share the benefits of eating whole plant-based foods—treats included!"
The business lifted the family in more ways than one: it helped with college tuition payments, but Madsen was even more thrilled that her three sons were eager to help. They loved watching the business grow. "It became a way for us to bond and build something together as a family," says Madsen.
Thanks to her success, Madsen has been able to achieve another goal—helping others. She started a roundtable for plant-based Black entrepreneurs to share resources and build community as they grow their businesses. She has also launched collaborations to fundraise for underserved communities.
Maya's cookies are crisp and sweet on the outside, chewy and butter-like on the inside. The best ones are loaded with chunks of chocolate, toffee or nuts. It's hard to believe they're vegan! Order online for home delivery or check the website for upcoming farmer's markets. Gluten-free options available.
Maya is glad she launched the bakery (located in Mission Valley) as her sons entered adulthood. Some days, she says, the business requires as much time and energy as another child. Her advice to parents considering entrepreneurship: "Be sure you have enough room in your life for a business-baby!"
FUN FACT: I love cooking with my boys. It's one of the reasons I make our gingerbread dough available to bake in your own kitchen. It has that rich fragrance that just feels like the holidays.
-Maya Madsen, Maya's Cookies
Learn more at www.mayascookies.com.
Anne Malinoski is an award-winning writer who lives in Santee with her husband and two sons.
Read the full article here