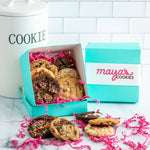 The cookies from this fan-favorite Black-owned vegan brand are some of the most toothsome treats out there. Available in a wide range of flavors––from the classics to more innovative offerings, these desserts have satisfied the sweet tooth of vegans and veg-curious peeps from across the country!
The Cookie Love Club is a new initiative created by Maya's Cookies to offer their fans a way to receive a regular shipment of crave-worthy confections. Each box will contain six cookies in total––four seasonal flavors and two exclusive flavors. The cookie varieties will rotate monthly.
If you sign up by October 23rd, you'll receive the very first subscription box for the month of October, featuring the limited-edition flavors of Pumpkin Spice Chocolate Chip, Drunken Grandma, Caramel Pecan, Brown Sugar Butterscotch, Pumpkin Spice Snickerdoodle, and Oatmeal Chocolate Chip. Those who sign up in October will also be gifted a piece of Maya's Cookies limited-edition merch.
Visit MayasCookies.com to join the Cookie Love Club today.
For the full article, view it here.