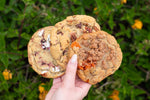 The Amanda Gorman, The Uncle Nearest, and The Chart-Topper cookies release May 30.
Get ready to satisfy your sweet tooth and make a difference this Juneteenth! Maya Madsen, CEO and founder of Maya's Cookies, is unleashing a stellar three-cookie collection that not only celebrates Black history but also paves the way for Black women in STEM.
Maya's Cookies Rolls Out Black History Collection for Juneteeth
Maya's Cookies—the much-loved, Black-owned vegan cookie company—is pulling out all the stops for Juneteenth. The brand will bring back mouthwatering flavors from previous Black History Collections, creating the ultimate all-star cookie lineup. This time, they're paying tribute to Black changemakers, icons, and barrier-breakers. Get ready to indulge in The Amanda Gorman, The Uncle Nearest, and The Chart-Topper!
The Amanda Gorman is a zippy lemon raspberry cookie with delightful white chocolate chunks, inspired by Black poet and activist Amanda S. C. Gorman, who is best known for her poem "The Hill We Climb," performed at the Joe Biden inauguration of 2021. The Uncle Nearest, which comes loaded with whiskey-candied pecans, caramel chips, and chocolate chips, honors the formerly enslaved man Nathan "Nearest" Green, who taught Jack Daniel how to distill alcohol. Famous for hits such as "You Are My Friend" and "If Only You Knew," The Chart-Topper pays homage to the iconic Patti LaBelle, the Godmother of Soul, with its peach cobbler inspiration. This delectable treat features smoked peach jam and a brown sugar cinnamon crumble.
Good Food for The Soul and Community
Maya Madsen is a true champion of giving back, and she's not stopping now. With each sale from this special collection, Maya's Cookies will donate a portion of the proceeds to Black Girls Code. The not-for-profit organization empowers young women of color in the world of technology and computer programming.
Mark your calendars, cookie lovers! The Black History All-Stars Collection will be available online starting May 30 at MayasCookies.com.
See the original article here: https://vegoutmag.com/news/mayas-cookies-juneteenth-vegan-cookie-collection/