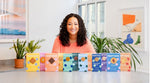 In a continued effort to celebrate Black Business Month, we want to give a shoutout to some of the Black-owned food brands we're loving right now. For many of these entrepreneurs, they saw a void in the market and took the initiative to do something about it. While we haven't spoken to each of them individually, we're pretty certain that it took a lot of prayer, patience and perseverance to get their businesses up and running.
As we stick to our own motto of moving Black forward, EBONY has rounded up this list in hopes that you'll take a little time to show them love, too. From a brand bringing authentic African flavors to our homes and a mom who simply wanted her daughter to enjoy snacks like other kids, despite her allergy—here are a few food brands to check out this Black Business Month.
You can find more Black-owned food brands that we rock with here, too.
Yolélé
Founded in 2017, Yolélé aims to create economic opportunity for small farming communities; to support their and to share Africa's ingredients and flavors with the world. While the brand offers several options as far as packaged foods, the Fonio Chips are a popular hit not just with us, but others as well.
Partake Foods
Created in 2016, Denise Woodard was inspired by her daughter's experience with food allergies. Partake was named #45 on the Inc 5000 list in 2022, and Woodard was the first Black woman to raise more than $1 Million publicly for a CPG food startup. Found in nationwide retailers like Target and Trader Joe's the brand offers everything from cookies and graham crackers to pancake & waffle mix.
Misha's
Maya's Cookies
Deemed the top Black-owned vegan cookie company, this Black business brings sweet treats to all, no matter your restrictions. Founded in 2015 by Maya Madsen, as a vegan with a sweet tooth, she had not been able to find that perfectly delicious, soft-baked gourmet vegan cookie, so she spent years crafting her award-winning and crowd-pleasing recipes.
The Black Bread Company
Recognized as the first Black-owned gourmet bread company, a couple of friends came together to disrupt an industry that has been thriving for decades—literally. Led by south-side of Chicago natives Mark Edmond and Jamel Lewis, the vision for the company began after Mark was in the bread aisle at the grocery store looking to be more socially and economically conscious. Frustration set in after spending over 45 minutes  'Googling' information on every bread brand in the store and finding none to be Black-owned. 
Products featured on EBONY are independently selected and curated by the editorial team. However, when you buy something through our retail links, EBONY may earn an affiliate commission.
Read the full article from Ebony here: https://www.ebony.com/black-business-month-food-brands/