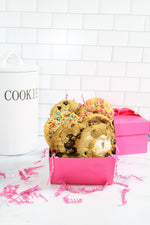 I am excited to share some of my favorite products (from mostly small businesses) that would make great gifts this season. I have given (and received!) all of these over the past few years and I couldn't recommend them more. (please note: a few are affiliate links!)
Challenger Bread Pan –– this was my ten year anniversary gift for Paul this year and we love it. Since I know it's pricey, I also want to highlight two other sourdough tools we use and love: this oval proofing basket and this lame for scoring the tops of sourdough loafs.
AUrate New York stackable gold rings –– I got similar rings to these as Mother's Day gifts that I wear on my right had to represent both girls. I lost one and the other broke so I was thrilled to replace them this year with this one.
What Kind of Woman –– I love Kate's work. I read this in one sitting and cried more than once. It was amazing. Other great books for friends: Where to Begin by Cleo Wade and After The Rain by Alex Elle.
Maya's Cookies –– this is a local San Diego business but they ship everywhere. Absolutely perfect gift for co-workers or to send to your kiddos school if the teachers are still coming in to teach from zoom like they are here.
Pinhole Press personalized photo calendars –– the forever best grandparent gift eight years running. (20% off with code CYBER.)
Lo & Sons Pearl bag –– this was originally (maybe 5 years ago?) a gift I asked for for Christmas and since then I have given it to my sister-in-law AND mother-in-law and we all use them all the time. It's a beautiful cross-body purse that comes in a few colors (and it's 50% off right now!)
Moccamaster –– this is the replacement if you want pour-over brewing quality without pour-over work. We have had this for three years now and it's going strong. Highly recommend for your favorite coffee lover.
colorful puzzles –– puzzles are our favorite thing to work on, especially in that week between Christmas and New Years. I love the idea of sending a puzzle to extended family who you may not get to celebrate the holidays with this year. Here are three more favorites: a whimsical village, plant ladies & joyspotting. (Bonus –– an alphabet puzzle from my childhood was one of the girls' favorite toys. I love this updated one.)
Kid Made Modern Arts and Crafts Supply Library –– this is Piper's forever favorite craft station. We are on our second box and while it's a mess, every single piece gets used for creative play. (Also, it's 20% off this weekend with code CYBER.)
Little People Big Dreams books –– my girls both adore these. Frida Kahlo is their current favorite but we have a bunch. (Santa will be bringing Greta Thunberg this year.)
Big Dreams, Daily Joys Journal –– I cannot not include my own journal that came out last spring. I have been using it for almost a year and the weekly check-in has helped immensely this year. Also! It's 15% off with code THANKFUL through Monday 11/30.
Read the original Gift Guide here