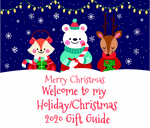 Welcome to my Best Holiday Gifts 2020 Guide! We made it! It's almost to the end of 2020, finally! Before we can say goodbye, we must say hello to the best holiday of all, Christmas! Santa Claus is coming to town in 41 days. Yikes! That's too close!
Below, you'll find category gifts for everyone on your list! There's even a section for pet gifts! The best part? This is just the beginning!. I will be adding new gift ideas throughout the weeks to come, so be sure to bookmark this page and come back!
Note to brands: If you would like your product included, please check out How to Get Featured in My Best Holiday Gifts 2020 Guide!
Last note: I received many of the products below in exchange for inclusion. However, I hand-pick which items to add and never include anything that I wouldn't buy or use myself.
Enjoy the full gift guide here