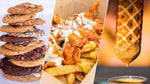 Where to order, what to order, and what you should know about these vegan eateries
What began as a way to earn extra income to put her sons through college grew into a beloved San Diego company that pleases anyone with a sweet treat, vegan or not. Maya Madsen, founder of Maya's Cookies, wants her customers to know that she and her crew welcome questions and love hearing about their experience with the decadent goodies.
"We focus on the quality of the ingredients and everything is artisanal and hand-scooped," Madsen said. "Vegan or non-vegan, I think people enjoy the layers of flavors. Come on down and don't be afraid to ask us questions."
Popular treat: The Chocolate Chip S'mores, which is exactly what it sounds like and the recipient of PETA's 2020 Libby Award Winner for Favorite Vegan Baked Good.
Maya's favorite cookie: Madsen said her cookies are like her kids and she can't just choose one over the others. She did say, however, that she's especially enjoying the Hank Aaron cookie right now.
Fun fact: Speaking of the Hank Aaron cookie, that sweet treat belongs to Maya's Cookies' Black History Month Collection, which features three cookies that are made in honor of notable Black individuals. The other two cookies pay homage to National Youth Poet Laureate, Amanda Gorman, and actress, dancer and director, Debbie Allen.
A word from the founder: "My catchphrase is, 'Cookies make people happy,' and it's so fun when people come to our shop and we see them driving off while eating a cookie," Madsen said. "It's so fun to see them smiling."
Where to order: Maya's Cookies can be purchased at the farmer's market it participates in, online and at their flagship baking location at 4760 Mission Gorge Pl. in San Diego.