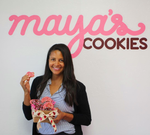 In honor of this month's International Women's Day, we're highlighting exceptional women-owned businesses in San Diego. These amazing females have built successful careers based on their passions, and our community reaps the rewards of their daily determination, creativity and desire to make the world a better place. Read on to be inspired by their stories and to support their businesses.
Kathryn Cloward, a.k.a. "Kathryn the Grape"
What do you get when you mix passion, purpose and purple? Kathryn the Grape! Kathryn Cloward, aka "Kathryn the Grape" to children, is a native San Diegan who made her childhood nickname into an integrated media series to help children have social and emotional personal development tools for understanding and expressing their feelings, making kind and compassionate choices, and being brave in new life experiences. An award-winning book series author, multi-genre songwriter, producer and publisher, Kathryn has earned national praise for her purposeful Kathryn the Grape® children's media, including recent NAPPA Awards for her "All Together" music album and 12-book Let's Read Together series. Kathryn has also written impact songs that support children braving cancer for Rady Children's Hospital Auxiliary, rare disease awareness and refugee youth programs. A prolific storyteller of simplification, Kathryn enjoys crafting big topics into compelling stories and songs for people of all ages to easily grasp and appreciate together. She's also the founder of Kandon Unlimited, Inc., a heart-centered mindful media company intent on creating and publishing positive and empowering media. She spent the past two years working closely with San Diego's humble hero, Father Joe, to write and publish his memoir that's releasing on April 12, Father Joe: Life Stories of a Hustler Priest.
Online: kathrynthegrape.com
Native Poppy
Talk about flower power! Natalie Gill established Native Poppy in 2015 to create joy by making art with her friends. She started her flower arranging business in her backyard alongside Meghan Blancato who became a partner in the business in 2018. Their business grew into a brick and mortar flower shop with two locations: South Park and Solana Beach. They provide beautiful flowers for every occasion to brighten peoples' lives. In their own words,  "The Native Poppies, as we affectionately call our team, are a group of dreamers. A band of caring, playful, and talented souls. We believe in taking care of the environment and drinking champagne, in stopping to cuddle and befriending every animal we see. We believe in singing while flowering and in always challenging ourselves and our peers to be better, all the while affirming each other for where we are today."
What a great place to bloom and find the best blossoms.
Online: nativepoppy.com
Lovely Leaps
Lovely Leaps dance studio teaches love of movement and inclusion one leap at a time. Lovely Leaps owner Lisa McCabe, an African American engineer turned dance instructor, focuses on making dance fun and developing key motor skills for kids ages 10 months - 10 years by growing their confidence and comfort in their own bodies. More than just a dance studio, Lovely Leaps is a movement of its own. Studio founders Lisa and Ricky McCabe started Lovely Leaps when their daughter was just five months old. Lisa's goal as a dance instructor is to offer a whole child approach to help kids blossom. She believes dance should focus on fun instead of perfection and she stresses inclusion. The Lovely Leaps team makes sure each child feels seen, heard, and loved in their dance journey.
The studio currently offers both virtual and in-person classes. Click here for class schedules.
301 E Grand Ave, Escondido, CA 92025
760-539-2543
Online: lovelyleaps.com
Katie's Healing Kitchen
Katie Farina of Katie's Healing Kitchen offers award-winning vegan cooking classes in San Diego. When her mother was diagnosed with cancer, Katie took a special interest in evoking the healing power in healthy foods and nutrition. She graduated from the Natural Epicurean Academy of Culinary Arts, a Professional Chef Training Institute in 2013 and she has been a proponent of "harnessing the power of food to heal disease." She teaches cooking classes and in her own words, her "lifelong goal is to inspire others to make the connection between the food they eat and its effect on their body, the environment and the world." Be sure to check out Katie's amazing cookbook here, and sign up for her cooking classes here.
Online: katieshealingkitchen.com
Yoga Rascals
Sünje O'Clancy, MA, E-RYT, RCYT founded Yoga Rascals in 2007. She has been dedicated to enhancing children's lives through yoga by creating a nurturing, fun environment, while supporting development and learning so that they may realize their fullest potential. Yoga Rascals newest offering, Yoga Rascals Club, makes a variety of videos, audios, and other exciting online resources that include yoga adventures with Sünje and her super friendly dog, Hippie, available for school-age children. O'Clancy offers endless meaningful ways for kids to connect to yoga: after-school programs, camps, mobile yoga, adventures to National Parks, yoga poems and songs and so much more. She shares, "I founded Yoga Rascals because of my love for children and my passion for yoga. Sharing the joy of movement, the calming effects of relaxation, and the many other benefits of yoga with children can have a big impact of how they develop their sense of self in a positive way." She adds, "I am very grateful to own my own business. It has allowed me to find balance between being a mom and raising my children, while doing what I love professionally."
Online: yogarascals.com
Edens Garden
Grace Martin founded Edens Garden as part of her dream to share high-quality, affordable essential oils and make them easily accessible to everyone. Edens Garden's story is rooted in natural and conscientious living. As a women and family-owned company, Edens Garden is inspired by their loved-ones to put safety, quality and sustainability at the forefront of their goals. With customers always at the core of what they do, Edens Garden has expanded product offerings to include synergy blends and hand crafted body and home care products.
Online: edensgarden.com
Rais Case
Julie Rais Ellis is the mother of two and the founder of Rais Case, which started as a bags and accessories collection and has since expanded and grown into a movement. She's passionate about designing the highest quality products that cultivate community and culture around locally handmade goods. The Rais Case team pivoted when Covid-19 struck and they began to utilize their local manufacturing resources to create high quality face masks and bandanas. Ellis offers, "Our relationship with our community is where magic happens. Our mission is simple but focused. It is to make quality goods that create community & support well-being." Further, "our hands touch every stage of the production process, and we take pride in our conscious business practices. Made with the highest quality materials available, all bags are designed, manufactured, and shipped from San Diego, CA.
Online: raiscase.com
Maya's Cookies
Maya was looking for the perfect vegan cookie: crispy-on-the-outside and gooey-on-the-inside. Unable to find it, she created a cookie recipe herself. Soon, she was a local celebrity with moms and kids––which inspired her to open Maya's Cookies. Voted San Diego's Best Vegan Baked Goods in 2017 and 2018, Maya's decadent cookie flavors range from chocolate chip and caramel pecan to funfetti and gluten-free s' mores. You'll love them all! Maya's Cookies is now America's #1 Black owned vegan cookie company.
Be sure to order Maya's new Raspberry Double Chip cookie, created in collaboration with CHOLE. to celebrate International Women's Month.
Online: mayascookies.com
Dirt Don't Hurt
A trio of sisters, Martiza, Sativa, and Kaya founded Dirt Don't Hurt in 2017. These conscientious moms have six kids between them and during their pregnancies they started to become more aware of what ingredients were in their personal care and cleaning products. Their line Dirt Don't Hurt was born when they decided to create the safe and natural beauty products they were looking for. Their plant-based products are 100% vegan and cruelty free and include skin care and oral care. Try their popular All-Natural Activated Charcoal Tooth Powder.
Online: dirtdonthurtme.com
Bitchin' Sauce
Starr Edwards, founder of the delicious Bitchin' Sauce, a vegan, gluten-free, non-GMO almond dip available in a variety of flavors, started her company in 2004 at the young age of 16! She started selling her "creamy concoction" at local farmer's markets and it was a huge hit. Bitchin' Sauce became so wildly popular that she needed to open a commercial kitchen. Costco discovered her brand and now it is distributed nationally and sold in supermarkets, at Costco and Target. Bitchin' Sauce is headquartered in Carlsbad and is family-owned and operated. Check out all of the delectable varieties of Bitchin' Sauce here and treat your family to some today!
Online: bitchinsauce.com
Gluten Free Baking Company
Roanna Canete has a diverse background as a consultant turned self-taught gluten free baker to Netflix star to bakery owner. She holds a master's degree in organizational leadership and an MBA in entrepreneurship. Roanna served as a leadership consultant and has taught at the graduate level. Today, she owns and operates a dedicated gluten free bakery in San Diego, California. How'd she end up as a professional baker? Roanna was living abroad with her family when her son was diagnosed with multiple food allergies. She began to notice the difficulties of finding good tasting food for him; so she took matters into her own hands and, while living in Italy, she studied cooking, baking, chocolate making and gelato from a culture that places the highest value on food quality, freshness, taste and appearance. In 2015, Roanna opened a Licensed Cottage Food Operation out of her home kitchen in Coronado, California. Word spread quickly and soon enough Roanna's gluten free baked goods were being sold to cafes, coffee shops and restaurants throughout San Diego. With wholesale business booming, Roanna moved the kitchen from her house to a production kitchen and in February 2020, she opened her first retail shop in North Park.
Online: thegfbakingco.com