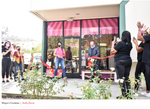 Maya's Cookies is aiming to go national
Everything changed for Maya Madsen in June 2020. Over the previous months, the impact of COVID-19 had shrunk her San Diego-based vegan cookie company, a local favorite of farmer's markets and vegan festivals, to a staff of three who processed a few dozen orders a day.
But in June, when Black Lives Matter supporters took to social media to elevate Black-owned businesses, Maya's Cookies got a major boost. Orders from every state rolled in, hitting a daily high of almost 2,000. Maya's staff ballooned to 35 and they rented an adjacent space for warehousing and shipping. The local bakery became a national sensation, turning Maya's Cookies into the number one Black-owned and woman-owned vegan cookie company in the country.
Earlier this month at a well-attended ribbon cutting, Maya's Cookies debuted its first retail shop. Carved out of the entry of their commercial kitchen, the otherwise unassuming Grantville storefront now sports a hot pink awning and sells guaranteed fresh, possibly still warm, cookies on demand. It's open from 10 a.m. to 3 p.m. Wednesday through Sunday.
The commercial kitchen is shared with other woman-owned businesses like Kula, whose vegan and gluten-free ice cream is available by the pint in the new storefront.
From classic Chocolate Chip to gluten-free S'mores (complete with a melted center of vegan marshmallow), Maya's Cookies have been a hit since launching commercially at the Little Italy Farmer's Market in 2015. Madsen sold out (that's 800 cookies) on her very first day of business. The storefront proved just a prolific.
"Our Grand Opening exceeded all of our expectations," Madsen says. "It was amazing to see so many community leaders, including City Councilman Scott Sherman, longtime customers, including our very first customer, [as well as] new fans, friends, and family come by Maya's Cookies to support our storefront opening. People were telling us they had driven in from LA, Long Beach, Orange County, and even a group from Illinois."
"We would have sold out of cookies by noon on that first day, after baking nearly 1000 cookies, but thankfully my team jumped in and continued to bake all day to make sure everyone left with a smile. The wave of friendly faces continued in a steady stream all weekend; there was always a line," she says.
Madsen aims to turn Maya's Cookies into the national go-to for vegan cookies, which means expanding operations. "For future locations, I have my eye on the East Coast," Madsen tells Eater. "To be honest, I keep dreaming of Atlanta. With a blossoming black vegan community in Atlanta, I think we'd find a warm Southern welcome for our delicious vegan cookies. Fingers crossed!"
The Maya's Cookies storefront is now open at 4760 Mission Gorge Road, Suite G. Store hours are 10 a.m. to 3 p.m. Wednesday through Sunday.
Read the full, original article here