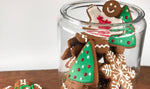 From Santa doughnuts to decorated cookie assortments, make the holidays sweeter with an edible Christmas gift. 
DECEMBER 9, 2020
It's been an intense year, and we cannot wait for Santa to drop by with our Christmas treats. In an effort to rush in much-needed holiday cheer, we decked the halls before Thanksgiving and we are stocking up on all the goodies to support independent vegan businesses and indulge our cookie cravings. From holiday cookie tins to festive chocolate assortments, these 15 Christmas sweets will make you merrier with each bite. 
1. Vegan Treats
Some people just aren't into baking Christmas cookies, and that's okay. Leave the baking to the pros and rely on this exceptional vegan bakery for your festive cookies. While the business has formerly shied away from shipping, the pandemic has forced the bakery to get creative, and it is now shipping select seasonal items. For Christmas, the $99.95 Holiday Cookie Tin Sampler provides a gorgeous array of traditional and unique vegan cookies including red velvet sandwich cookies, iced shortbread cut-outs, peanut butter bonbons, cinnamon sugar rugelach, and so much more. 
2. Maya's Cookies
Food businesses have been hit particularly hard since March, but San Diego-based Maya Madsen hunkered down and transformed her online-only project into a brick-and-mortar cookerie. She still ships her delightful vegan cookies nationwide, and this Christmas season, we've got our stomachs set on the $50, eight-cookie Deluxe Holiday Tin. The collection includes Sparkle Sugar cookies, gingerbread people, White Chocolate Cranberry cookies, and marshmallow-studded Chocolate Peppermint S'mores. 
3. Southern Roots Vegan Bakery
Actress and personality Tabitha Brown is a fan of this San Antonio bakery, and we trust her judgment. The cookies included in the $50 Holiday Cookie Bundle are humble affairs that taste like childhood, but better. You'll receive four of each classic cookie: sugar, oatmeal raisin, chocolate chip, and double chocolate chip. 
4. Seed+Mill
Tired of cookies? Try halva. This naturally vegan treat made from sesame seeds and sugar will instantly brighten your day. The texture starts out flaky but then melts in your mouth to disperse a taste of wonderfully sweet nuttiness. Seed+Mill offers an abundance of flavors from raspberry and coffee to pistachio and cacao nib. For gifting purposes, opt for the Halva Happy Holidays or a package of the Holiday Cookie Kit.  
5. Karma Baker
No matter the holiday, we can always rely on this inventive gluten-free baker to crank out an elaborate and festive doughnut. For Christmas, the Santa's Butt doughnuts are back! The enormous chocolate cake doughnuts are doused with vegan white chocolate and feature fondant Santa legs sticking out of the center. Apparently, Santa enjoyed one too many vegan doughnuts.  
6. Foxship Bakery
Leave a few of these quarter-pound per cookies for Santa, and he'll be sure to find an extra present in his bag for you. Holiday-themed flavors include chocolate-based Peppermint Crunch, crinkly powdered sugar-topped red velvet, and sprinkle-infused Christmas Cake Batter. Be sure to leave an extra-large glass of almond milk for dunking. 
7. Sjaak's
This vegan chocolatier has all of your stocking-stuffer essentials. From white chocolate (No Egg) Nog Snowmeeple to holiday truffle assortments, everyone will skip the presents under the tree and make a beeline for the stockings hung over the mantle. 
8. Lagusta's Luscious
Whether you celebrate Hanukkah or Christmas (or both), this New York-based vegan chocolatier offers something for every celebration. From basic gelt coins to an elaborate $145 Winter Solstice Collection, you can get all of your gift shopping done with just a few clicks of a button. 
9. Giselle's Vegan Kitchen
Sure, a bundt cake isn't strictly a Christmas cake, but its wreath-like design makes it particularly appropriate for the holidays. We're opting out of the figgy pudding and choosing to adorn our Christmas table with Giselle's stunning, moist marble bundt cake. Bonus: it happens to be gluten- and refined sugar-free. 
10. Sensitive Sweets
From adorably decorated sugar cookies to frost-your-own kits, this allergen-friendly bakery is perfect for the little vegans at home. These treats are free from gluten, tree nuts, peanuts, dairy, eggs, wheat, sesame, coconut, and soy, so everyone can partake in the holiday joy no matter their dietary restrictions or preferences. Bunker down with the family and spend a wintry evening decorating gingerbread people with the $26.95 cookie decorating kit. 
11. Sticky Fingers Bakery
What is the difference between shipping your own homemade Christmas cookies and shipping cookies from Sticky Fingers Bakery? The treats from Sticky Fingers will actually arrive in one piece. Send the $40 Holiday Cookie Tin to anyone in the US and they'll receive fully intact, bite-sized chocolate chip, Phat Mint, sugar, ginger, and raspberry thumbprint cookies that will make any solo Christmas seem a bit brighter. 
12. Erin Mckenna's Bakery
Order your gluten-free gingerbread people or dreidel cookie decorating kits from this bicoastal vegan bakery. The shop also offers a few bestsellers for nationwide shipping—from Dutch apple pie to cinnamon swirl coffee crumb cake. You've got Christmas breakfast and dessert covered. 
13. Divine Treasures
There's no need to limit gifts of chocolate to only Valentine's Day. The luscious vegan assortments at Divine Treasures are too tempting to pass up. There are several sweet options based on your price point—from the $16, six-piece Icy Treasures to the generous $45, 21-piece Polar Treasures collection. 
14. Vegan Soul Bakery
From vegan sweet potato pie to the comprehensive All Occasion Box, this vegan-friendly bakery puts a bit of Southern charm into everything it bakes. The $75, seven-item box comes elegantly wrapped with a bright red ribbon and a collection of the bakery's greatest hits. It's a wonderful gift—especially when your giftee shares.  
15. L'Artisane Bakery
The impossibly flaky, rich, and buttery vegan croissants hooked us when this vegan patisserie first opened, but we're taking a break from the French pastry to indulge in L'Artisane's seasonal Gourmet Cookies Box. The $30, 12-cookie assortment includes the classics in addition to intriguing flavors such as Apple Pie & Pecans and White Chocolate Macadamia & Raspberry. Nous voulons tous les biscuits (we want all the cookies)! 
Tanya Flink is a Digital Editor at VegNews as well as a writer and fitness enthusiast living in Orange County, CA.
View the original guide
here