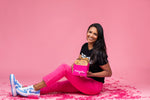 San Diego Success Story, Maya's Cookies, to Open a Second Storefront in North County San Diego
San Diego Based, Black-Owned, Female-Owned Gourmet Cookie Company to Celebrate Grand Opening at North City with an Event-Filled, Cookie-Fueled, Star-Studded, All-Day Party
SAN DIEGO, Calif. – July 13, 2022 Maya's Cookies, emerging as a pandemic success story, is announcing its grand opening at the quickly expanding North City development. Boasting other anchor establishments like Buona Forchetta, Wynston's Ice Cream, Draft Republic, Mesa Rim Climbing Center, and more, Maya's Cookies joins the center as a must-visit destination for tourists, college students, cookie fans, and nearby residents. The grand opening and ribbon cutting is slated to be held on Friday July 15th at 10:30 am. Join NBA All-Star, Entrepreneur and Maya's Cookies Advisor, John Salley, for giveaways, prizes, music, and cookies galore. San Diego's own Geena the Latina from Channel 93.3 will be there too from 11-1, to share in the excitement!
 Maya's Cookies will feature the following Gourmet Cookies on the GRAND OPENING Menu:
Chocolate Chip
Marble Fudge
Snickerdoodle
Birthday Cake
Chocolate Chip S'mores
Famous "Everything"
Brown Sugar Butterscotch
Drunken Grandma
White Chocolate Macadamia
Tennessee Whiskey Chocolate Chip featuring Uncle Nearest Whiskey
Ube White Chocolate
Cosmic Brownie
Rice Krispie Treats
And Wheat Free options
"We are THRILLED to bring Maya's Cookies to North City," Maya Madsen, Founder of Maya's Cookies states, "We love the city within a city concept and feel that we are helping build a community, a destination, for people to connect and share a little happiness."
Not only will the boutique bakery storefront be packed with delicious treats, but they will also feature local and national partners to create special in-store events, showcase partner products, and feature exclusive flavors and items. Fans and customers will be able to purchase Maya's Cookies merchandise so they can commemorate their visit.
Darren Levitt, Vice President of Sea Breeze Properties, the premier developer of North City, a collection of restaurants, outdoor plazas, breweries, fitness and entertainment venues that is quickly establishing itself as the downtown of San Marcos, and greater San Diego's North County, agrees, "Bringing the award-winning, nationally recognized Maya's Cookies to North City is a huge win for the community. We are very proud of this partnership and hope that customers see the quality of merchants we are aiming to welcome to the neighborhood."
Grand Opening Details:
When: Friday, July 15th at 10:30 am. Regular Store Hours: Tuesday - Sunday from 11AM to 9PM
Where: 250 North City Drive, Suite 8, San Marcos, CA 92078
First 100 customers will receive a prize-packed gift bag!
About Maya's Cookies
Founded in 2015 by Maya Madsen, Maya's Cookies is America's #1 Black-Owned Gourmet Vegan Cookie Company. From the classic to unique and forward-thinking flavors such as "Chocolate Chip S'mores" and "Marble Fudge", every flavor has a story grounded in Maya's travels, memories, and experiences. Alongside providing the highest quality product that appeals to everyone, Maya's Cookies is committed to superior customer service and community engagement, with a focus on youth and underserved communities. Maya's Cookies ships nationwide- simply order as a treat for yourself or as a gift at MayasCookies.com. Learn more about Maya's Cookies and share the love on their Instagram, Facebook, and Twitter pages.
About North City
North City, a vibrant and evolving destination, is a "city within a city" located in San Diego's North County and immediately adjacent to California State University at San Marcos (CSUSM). A collaborative effort between the City of San Marcos and developer Sea Breeze Properties, LLC, the North City development overall is projected to include: 3,400 units of mixed housing, including single-family, market-rate apartments, affordable housing and CSUSM affiliated student housing; 345,000 square feet of mixed retail, including restaurants, grocery, entertainment, and other services; upwards of 1,000,000 square feet of commercial and medical office; and 20 acres of parks and trails. North City's compact area, strategic location, and easy access to existing mass transit make it the most exciting new development in the region. For more information on where to eat, play and stay in North City as well as development and leasing updates, visit https://www.northcity.com/. Or, follow along on Instagram, Facebook and LinkedIn at @northcitysandiego.
For Maya's Cookies Press & Partnership Opportunities:                  
Candace Brenner
For North City Inquiries:
Audrey Doherty