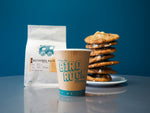 San Diego Based Premier Coffee Roaster partners with three black-owned, female-owned companies to benefit DETOUR, a mentoring program for girls of color.
San Diego, Calif. – Sept. 24, 2020 National Coffee Day is Tuesday, September 29th and Bird Rock Coffee Roasters is focused on more than just coffee. Instead, Bird Rock is celebrating the producers, farmers, exporters, and retail partners who continually strive for better industry outcomes.
"This year we are excited to share a delicious collaboration between three incredible Black-Owned, Female-Owned businesses we've had the pleasure of working with over the years," says Jeff Taylor, Bird Rock Coffee Roasters President. "We started with one of our longtime partners, Maya Madsen of Maya's Cookies."
Maya notes, "When Jeff reached out to collaborate, of course I said yes! Jeff was an early supporter of Maya's Cookies and we were thrilled to be a part of this positive promotion. I wanted to create something special. I started with my signature White Chocolate Macadamia Nut Cookie and added the rich and delicious coffee from Burundi Coffee, Butihinda Kalico, creating a new and exceptional flavor."
This amazing coffee is from producer Angele Ciza and was imported by Phyllis Johnson, owner of BD Imports. Phyllis shared, "With 21 years in the coffee business, I've not only tried to build a business but also taken opportunities to advocate for a more inclusive industry.  This collaboration represents what businesses can do to foster inclusion and diversity."
September 29th (National Coffee Day) - October 1st (International Coffee Day) Bird Rock Coffee will sell the cookies and coffee with proceeds from each (in-store)  and $2 per bag of the Burundi Butihinda Kalico sold (online and in-store) will be donated to DETOUR.  
DETOUR (Depositing Empowerment Through Outreach & Urban Redevelopment) is a mentoring program for girls of color. Their mission is to increase access to education and employment opportunities for girls through their Focused And Naturally Confident Youth (F.A.N.C.Y.) Leadership programs (Expo, Leadership Academy, and Ambassador Internships.) 
About Bird Rock Coffee Roasters:
Bird Rock Coffee Roasters (BRCR) is proud to have put premiere, direct-trade coffee on the map in San Diego. BRCR has won multiple national and international awards for quality, taste, roasting and socially responsible practices, including: sixteen medals at the 2018 national Golden Bean coffee roaster competition, the national Good Food Awards in 2016, 2017 and 2019 and secured the highest cupping score in the 2019 competition, the #1 spot on Coffee Review's "30 Best Coffees of 2016," the national Micro Roaster of the Year Award in 2012, and a consistent winner of scores over 90 points for several of their coffees. Bird Rock Coffee Roaster's staff sources the best coffees in the world and directly from origin. Going beyond the perfect latte, Bird Rock Coffee Roasters has professional roasters on site and pour-over bars featuring seasonal offerings. Bird Rock Coffee Roasters engages in direct trade with farmers, and is proud to serve the best green coffee, prepared with the utmost respect for those who produced it. Bird Rock Coffee Roasters has six locations in San Diego. For more information, please visit  www.birdrockcoffee.com
About Maya's Cookies
Founded in 2015 by Maya Madsen, Maya's Cookies is America's #1 Black-Owned Gourmet Vegan Cookie Company. As a vegan with a sweet tooth, she had not been able to find that perfectly delicious, soft-baked gourmet vegan cookie, so she spent years crafting her award-winning and crowd-pleasing recipes. From the classic to unique and forward-thinking flavors such as "Chocolate Chip S'mores" and "Marble Fudge", every flavor has a story grounded in Maya's travels, memories, and experiences. Alongside providing the highest quality product that appeals to everyone, Maya's Cookies is committed to superior customer service and community engagement, with a focus on youth and underserved communities. Maya's Cookies ships nationwide- simply order as a treat for yourself or as a gift at MayasCookies.com. Learn more about Maya's Cookies and share the love on their Instagram, Facebook, and Twitter pages.
For Press & Partnership Opportunities:
Candace Brenner
About BD Imports
BD Imports was founded in 1999 and serves as an award winning importer and marketer of exceptional quality specialty coffees. Visit our website: http://www.bdimports.com
About Burundi Coffee
Angele Ciza founded Kahawa Links company SA, also known as Kalico SA, a woman-owned company that grows, processes, and exports coffee directly into the international market. Kalico owns seven washing stations in the northern region of the country, two in Muyinga and five in Kirundo. Butihinda Washing Station or "Gold Coffee" is one of the 7 wet mills that Kalico operates in Northern east area of Burundi in Muyinga province.
About Detour
DETOUR is a mentoring program for girls of color. Our vision is to see equity and inclusion for teen girls of color in higher education and priority sector employment. Our mission is to increase access to education and employment opportunities for girls through our Focused And Naturally Confident Youth (F.A.N.C.Y.) Leadership programs (Expo, Leadership Academy, and Ambassador Internships.)Our purpose is to provide a positive forum for girls to become actively engaged in working towards acquiring the skills necessary to become what they aspire to be and to achieve their dreams. Our goal is to encourage living a fulfilled positive lifestyle, while promoting the revitalization of self-esteem and self-perception. Our message is it is never too late to reposition yourself to passionately seek and fulfill your purpose!