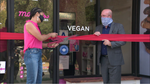 America's first black-owned gourmet vegan cookie company, Maya's Cookies, opens first storefront
SAN DIEGO (KUSI)- Maya's Cookies is a popular San Diego based, black-owned, female-owned gourmet vegan cookie company. Today, Maya Cookies opened its first storefront with a ribbon cutting ceremony.
"Over the years, I kept the idea of a Maya's Cookies storefront in the back of my mind, but I had been so focused on the existing business, it never quite came together— until recently. I knew when the time was right, my team and I would open a beautiful storefront. I felt the right time was now," Maya Madsen, Founder of Maya's Cookies, said.
See the full story here