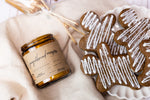 Looking for the perfect gift for the sweet tooth on your list? Shop flavors like Peppermint Bark Bliss, Hot Chocolate S'mores, and more.
Great news, VegOut fam! Maya's Cookies holiday collection launches today. From the enchanting Candy Cane Land Collection to the cozy Fireside Collection, you'll find delectable treats that capture the essence of this festive time of year. Plus, be sure to check out their Holiday Spice Gift Set and DIY Cookie Decorating Kit that are sure to spread joy and cheer. And get ready to embark on a sweet and tasty holiday journey!
Candy Cane Land Collection: Spreading Joy & Giving Back
The Candy Cane Land Collection is a delightful fusion of Maya's Cookies' bestselling holiday flavors and is sure to infuse your holidays with fun and whimsy. With each purchase from this collection, you'll be contributing to Detour Fancy, a mentorship program dedicated to empowering girls of color through education and employment opportunities. This collection includes eight cookies, with two of each of the following flavors:
Chocolate Peppermint S'mores:

 

Indulge in rich double chocolate dough, marshmallow, and peppermint pieces.
Gingerbread People:

 

Enjoy this vegan twist on the classic gingerbread cookie.
Sparkle Sugar:

 

Indulge in Maya's iconic sugar cookie adorned with dazzling sprinkles.
Peppermint Bark Bliss:

 

Experience the nostalgia of peppermint bark combined with Maya's Classic Chocolate Chip recipe.
Fireside Collection: Warmth, Comfort, and Family Time
The Fireside Collection is packed with warm spices, rich chocolate, and just the right amount of sweetness. Perfect for sharing with your loved ones, this collection features eight cookies, with two of each of the following flavors:
Hot Chocolate S'mores:

 

A delightful blend of marshmallow, creamy double chocolate dough, and chocolate

 

sprinkles.
Red Velvet:

 

An enticing reinvention of the classic Southern red velvet cookie with white chocolate chunks and a powdered sugar finish.
Cinnamon Bun:

 

The perfect swirl of cinnamon sugar and pecans topped with a delectable vanilla glaze.
Holiday Spice Chocolate Chip:

 

A holiday twist on our classic

 

chocolate chip cookie, infused with clove, cinnamon, and ginger.
Holiday Spice Gift Set:
 

Collaboration with Frères Branchiaux

In partnership with the Black-owned artisanal candle company Frères Branchiaux, Maya's presents the Holiday Spice Gift Set. This set includes an exclusive 8oz Frères Branchiaux Gingerbread candle, available only at Maya's Cookies, and four Classic Gingerbread cookies drizzled in decadent white chocolate. Packaged beautifully with a festive holiday sleeve, it's the ideal gift for anyone on your list.

Founded by three brothers—Collin, Ryan, and Austin Gill—Frères Branchiaux is an award-winning candle company known for unique scents and high-quality products. They also give back by donating 10% of their profits to Washington, DC area homeless shelters.
DIY Cookie Decorating Kit: Unleash Your Inner Cookie Artist
Maya's DIY Cookie Decorating Kit is a creative and festive way to get into the holiday spirit. It includes six Classic Gingerbread cookies (three people, three stars), ready-to-use icing with a piping bag, assorted candies and sprinkles, and helpful how-to videos from Maya and her team.
This holiday season, make memories and spread joy with Maya's Cookies. Treat yourself and your loved ones to a taste of holiday magic! Visit MayasCookies.com for more information.
See the full article: https://vegoutmag.com/news/mayas-cookies-holiday-collection-2023/?_kx=gvsDCtlJh0VmuEVIp3yt6FpoMtGQOqAX-poFXuhDQNU%3D.YjYfXP