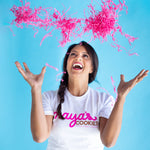 Black Owned, Female Owned Gourmet Vegan Cookie Company Announces New Flavors, New Collection, and Promises More to Come! 
 SAN DIEGO, Calif. – Aug. 13, 2020 – Maya's Cookies, America's #1 Black Owned Gourmet Vegan Cookie Company, unveiled today a new logo and website as they begin to commemorate their 5th anniversary in business.  
 "As a formal fitness model and personal trainer with a sweet tooth, I set out to create what I could not find; a delicious, crisp on the outside, chewy on the inside gourmet vegan cookie," stated Maya Madsen, Owner and Founder of Maya's Cookies. "Five years ago, I could never have imagined that we'd be where we are today. It's humbling to see what is possible with hard work and a commitment to quality and community. This new look represents that growth and evolution." 
 The company also revealed a new cookie collection and a new cookie flavor. The latest cookie collection, S'mores Galore, is a tribute to the time-tested tradition of roasting marshmallows with friends and family.  It features four (4) large 3-ounce cookies for $17 with these cookie - marshmallow mash-ups:  
Chocolate Chip S'mores 
Oatmeal Chocolate Chip S'mores 
Marble Fudge S'mores 
White Chocolate Espresso S'mores 
No fire pit required to enjoy these chewy-gooey delights! 
 And a new favorite flavor, The Obama, which is inspired by an award-winning triple chip cookie recipe by Michelle Obama that Maya veganized. It features: 
Semi-sweet chocolate chips 
White chocolate chips  
Mint chocolate chips  
Walnuts 
 Cookie lovers can pick these large 3-ounce treats in packs of six (6) for $24, just in time to celebrate election season. 
 Maya's Cookies invites fans to celebrate this milestone with the use of hashtag #MAYASFIVE on social media with lots more fun promotions, more announcements, and exciting partnership news to come. These cookies and collections are available now at www.mayascookies.com 
 About 
Founded in 2015 by Maya Madsen, Maya's Cookies is America's #1 Black-Owned Gourmet Vegan Cookie Company. As a vegan with a sweet tooth, she had not been able to find that perfectly delicious, soft-baked gourmet vegan cookie, so she spent years crafting her award-winning and crowd-pleasing recipes. From the classic to unique and forward-thinking flavors such as "Chocolate Chip S'mores" and "Marble Fudge", every flavor has a story grounded in Maya's travels, memories, and experiences. Alongside providing the highest quality product that appeals to everyone, Maya's Cookies is committed to superior customer service and community engagement, with a focus on youth and underserved communities. Maya's Cookies ships nationwide- simply order as a treat for yourself or as a gift at MayasCookies.com. Learn more about Maya's Cookies and share the love on their Instagram, Facebook, and Twitter pages.