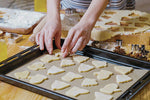 Millions of Americans love baking cookies during the holidays and exchanging them with friends to double, triple or even quintuple the variety of treats in their family's cookie jar. But these days, getting friends together to share sweets could become a super-spreader event.
Mary Madsen has enjoyed her annual holiday cookie exchange for years, and doesn't want to give it up this year, so she's figured out how to have a safe and socially distant exchange.
Madsen, 51, is the founder and chief recipe creator of Maya's Cookies, a vegan bakery based in San Diego. She and her employees have shipped cookies to all 50 states since June.
Madsen said she and her friends have been puzzling over how to have a safe holiday exchange this year, and she thinks they've come up with a solution.
"I recommend dropping off cookies at the participants' homes and having the party virtually over Zoom," she said. "Why not make this year something to remember and look back on as 'the year we celebrated virtually'? It will make a great toast next year when friends can gather safely, hopefully."
According to a 2019 survey by Nielsen-Massey, a whopping 87% of millennials and Gen-Xers said they were likely to bake during the holidays, and 59% said their baking was motivated by a desire to spend more time with family. This year, families cocooning together at home for all meals and entertainment will likely mean a baking bonanza.
Fortunately, the Centers for Disease Control and Prevention says there is no evidence that COVID-19 is transmitted through food. Just be sure to keep hands and work spaces clean.
A HOW-TO GUIDE
Never done a cookie exchange? Here's how to organize one that's pandemic-safe.
>> Make sure each participating baker is making a different type of cookie and agree how many cookies each will provide. A good rule of thumb is one dozen cookies per participant. So if six people are baking, each should make six dozen cookies, one to keep and five to share, bagged up separately.
>> Be sure everyone bakes on the same day or weekend, so everything is equally fresh.
Read the full guide here